Tonga - Vava'u - Swim with Humpback Whales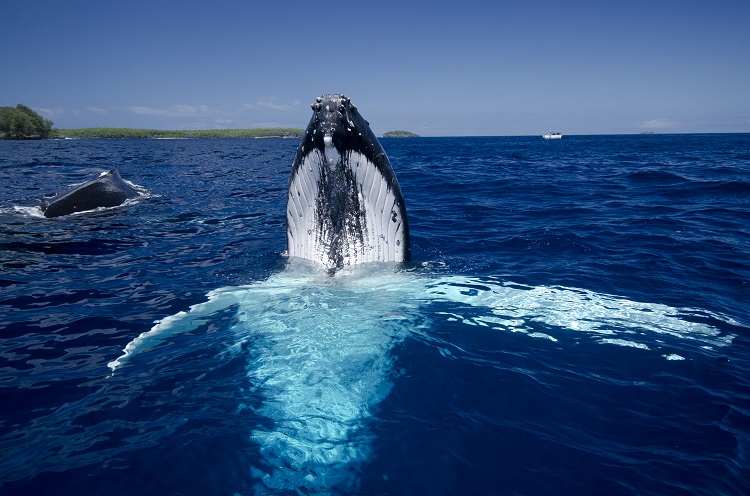 Snorkeling with Humpback Whales!
The beautiful, sheltered, Islands of Vava'u are the rendezvous point for the annual migration of Humpback whales escaping the harsh Antarctic winter. The protected waters close to the sea cliffs and islands provide an ideal environment for the birth of each year's babies and an opportunity for prospective males to mate and create next year's offspring.

Imagine sunbeams streaming down through sapphire blue water reflecting off the massive 40 ton, 15m long humpback whale as she poised motionless just above the sand 10m below. Tucked under her giant chin a baby whale also hung motionless staring eye to eye with the 5 strange creatures floating above on the surface. Eventually the desire to breathe every 10 – 15 minutes drove the baby to the surface but equally compelling was the curiosity of youth and the desire for play.
Trip Dates
13 - 20 September 2023
20 - 27 September 2023
Tour Leaders
Kevin & Cherie Deacon
Price $ 6,995
8 Days / 7 Nights Vava'u, Tonga
Inclusions
Includes everything except flights & overnight accommodation from Australia to Vava'u. Flight schedules TBA.

Notes
Not Included: Flights & overnight accommodation from Australia to Vava'u. Flight schedules TBA.
Travel insurance, personal expenses & excess luggage fees.
Conditions Apply. Rates subject to change.
$2,500 Non-refundable deposit required to secure a spot!
All prices subject to increases if the Australian dollar falls dramatically.
All prices based on bank transfers. Credit cards are acceptable but credit card fees apply. Visa/MasterCard & Amex +1.6%