David & Goliath. The Feeding Whale Shark
18-Dec-2016
Back to Image Gallery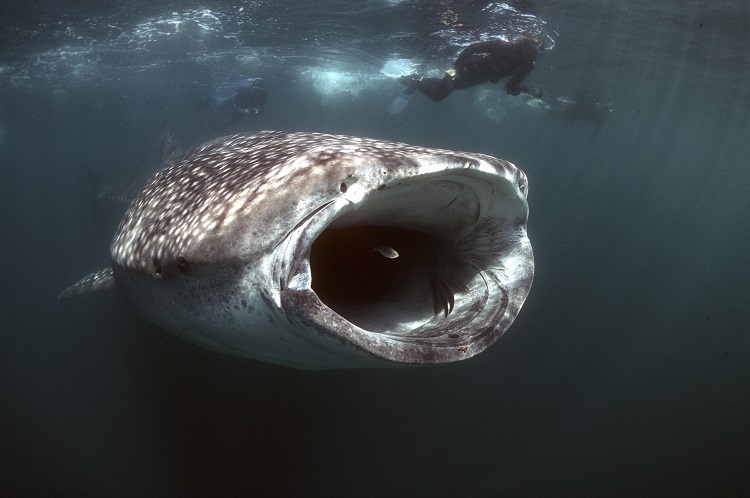 Perhaps you have heard the biblical story of `David & Goliath'. Legend tells us David faced the giant warrior Goliath and slew him with a stone. One moral of the story is `fear not giants'. Somehow the little fish swimming unconcerned in this giant shark's mouth brings this story to mind. This was my first trip to Ningaloo Reef soon after the discovery of large congregations of whale sharks occur there during March, April & May. I would return many times with our dive groups and ultimately produce a portfolio of images for Australian Geographic Magazine and help film a documentary for Discovery Channel. Of all the images this one has been the most frequently published worldwide, because this picture tells a story.
Photo Data: Location: Ningaloo Reef, Exmouth. West Australia. Genre: Extreme Wide Angle Sunlight. Photo Data: Nikon F3 camera, Nikkor 16 MM Full Frame Fisheye Lens, Aquatica F3 Housing. Aperture Priority Exposure Mode. Kodachrome Film ISO 64 Exposure f8 @ 1/250th second shutter speed. Image by Kevin Deacon.
Photo Hints: The Full Frame Fish Eye Lens is one of my favourites as it captures a field of view twice as wide as most conventional wide angle lenses. It's perfect for capturing the big scenes, the big animals and the pig picture, almost regardless of visibility constraints. This lens takes some getting used to as it will easily capture unwanted subjects in the frame. Occasionally while swimming backwards to keep up with whale sharks I have even captured my own fins in the shot!
Interesting Facts: Whale sharks are the world's largest shark and can attain a length of 18 meters. They are gentle giants feeding on plankton and small fish. Years ago an encounter with a whale shark was considered a very rare event. Now we know several locations in the world where multiple whale shark encounters are almost guaranteed. Common names. Whale Shark. Latin name. Rhiniodon typus