Giant Oceanic Manta Ray
29-May-2016
Back to Image Gallery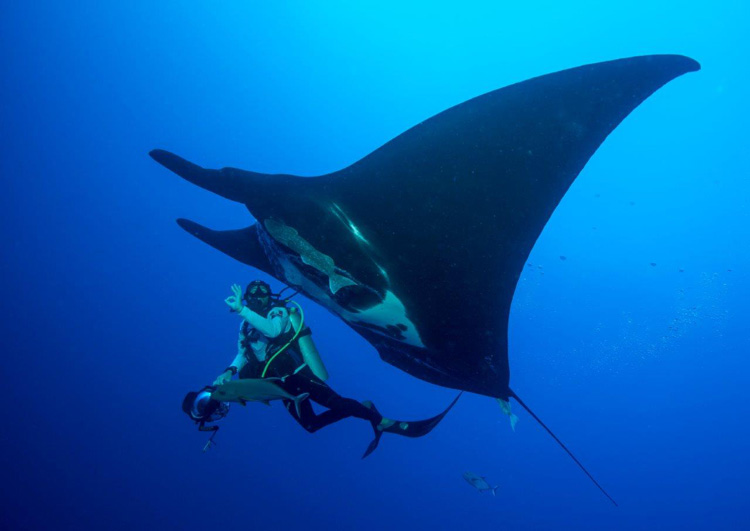 I am sure most divers have a bucket list of dive locations or unique marine life they wish to encounter, I know I do! And, during my 50 years of diving, just when it seems I am getting close to the bottom of my bucket, new destinations or new marine life discoveries occur and my bucket refills! January 2016, the month of my 68th birthday, I managed to tick three spectacular encounters off my bucket list that have been eluding me for decades. The Giant Oceanic Mantas of Mexico, The Great Hammerhead Sharks of the Bahamas & the delightful Manatees of Crystal River Springs. You will ultimately see all the results in future issues of Dive Log and Sportdiving Magazine. Nonetheless, I am sure you can imagine my excitement at this moment when this Giant Manta cruised by dwarfing our Mexican dive master with its 7 metre wing span! Just one of over 30 Giant Mantas our group of photographers encountered on our Dive 2000 Photo/Dive Safari to these three destinations.
Photo Data: Location: The Boiler, Socorro Islands, Mexico Genre: Wide Angle with Twin Strobes. Photography Data: Nikon D800 camera, Nikkor 16-35 MM Zoom Lens, Seacam Housing with Seacam Strobes. Manual Exposure Mode. ISO 400 Exposure f8 @ 1/125th second shutter speed. Image by Kevin Deacon.
Photo Hints: It is most important to avoid overexposing the white undersides of subjects like mantas so your strobe power should be reduced more than normal to provide just enough fill light to reveal the detail. As such large subjects need t be shot from further away, the use of very long strobe arms are needed to avoid backscatter from suspended particles in the water column.
Interesting Facts: For many years manta rays were considered all one species and the occasional appearance of giant ones was assumed to be due to their age. It was not until Dr Andrea Marshall's studies revealed the existence of two separate species. Andrea's discovery of a new giant species in 2008 was one of the largest new species to have been described by any scientist in the last 50 years. Hence we now have the more common Reef Manta (M.alfredi up to 4.5 Meters wingspan) found in most tropical destinations close to coral reefs and the Giant Oceanic Manta (M.birostris up to 7 meters wingspan) that is migratory and ocean roaming. To my knowledge the Giant Oceanic Manta can only be reliably encountered in the Socorro Islands 200 Nautical miles off the Mexican Pacific coast of Baja California, and that's where we went to meet them!