New Year Fluoro Anemone
10-Jan-2016
Back to Image Gallery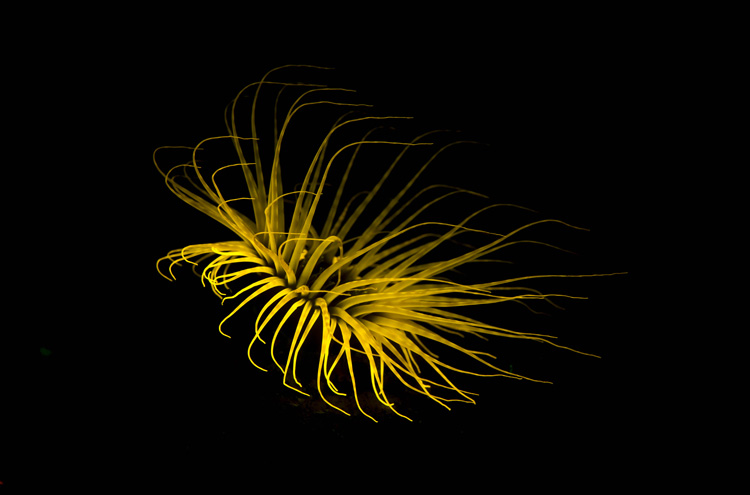 Happy New Year to all our divers, families and friends! We love this underwater image that inspires a feeling of Fireworks on New Year's Eve. We feel this Fluorescing Anemone reminds us of a trail of fireworks against the night sky. May the new year bring joy and many dive adventures for you all.
Photo Data: Location: Fly Point, Nelson Bay, Port Stephens, Australia Genre: Macro Photo Data: Nikon D800 in Seacam Housing. Nikkor 60mm Macro Lens. Dual Seacam Strobes. Exposure F11 @ 1/125 sec. Image by Kevin Deacon.
Photo Hints: Many species of marine life exhibit fluorescence when illuminated by lighting designed to reveal this phenomenon. A Fluoro Light is required to reveal these species and a yellow filter is worn on your dive mask so the fluorescence can be seen. To capture fluorescent images a yellow filter is required on the camera lens and the strobe requires a fluoro filter to produce the correct wave length of light.
Interesting Facts: Many people believed that only corals produce fluorescence but we have now discovered many species of marine life have this capability. A fact that is baffling to science at this time. Fluorescent species occur in all tropical and temperate water environments such as our Great Barrier Reef & NSW southern coast. Common name. Tube Anemone Latin name. Cerianthus sp.