Christmastime Soft Corals
06-Dec-2015
Back to Image Gallery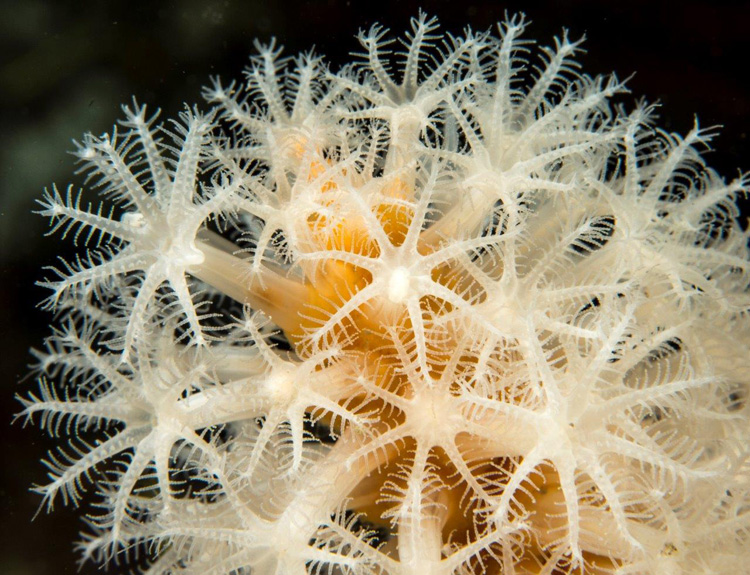 Merry Christmas & Happy Holidays to all our divers, families and friends. We needed an underwater image that inspired a feeling that represents this time of year, one of peace & goodwill to all. We felt these soft coral polyps reminded us of the delicate forms of magnified snowflakes during Christmastime in the northern hemisphere. May these holidays bring you joy and herald a Happy New Year for you all.
Photo Data: Location: Fly Point, Nelson Bay, Port Stephens, Australia. Genre: Macro Photo Data: Nikon D800 in Seacam Housing. Nikkor 60mm Macro Lens. Dual Seacam Strobes. Exposure F32 @ 1/160 sec. Image by Kevin Deacon.
Photo Hints: Using a small aperture setting of F32 provides better depth of field and assists with sharp focusing. It also reduces any sunlight exposure. Selecting a faster shutter speed of 1/160th also further reduces any chance of sunlight exposure thus producing a black background for the most striking effect. It is also important to shoot at low angles and make sure no other subject matter other than the empty water column is in view. Otherwise the strobe light may reveal such subjects and ruin the effect.
Interesting Facts: Most people believe corals need tropical water to exist. In fact there are a number of species of Hard Corals, Soft Corals and Sea Fans that flourish in temperate water environments such as our NSW southern coast. Common names. Soft Coral Latin name. Carijoa sp.