Grey Nurse Sharks at Fish Rock Cave
09-Feb-2011
Back to Image Gallery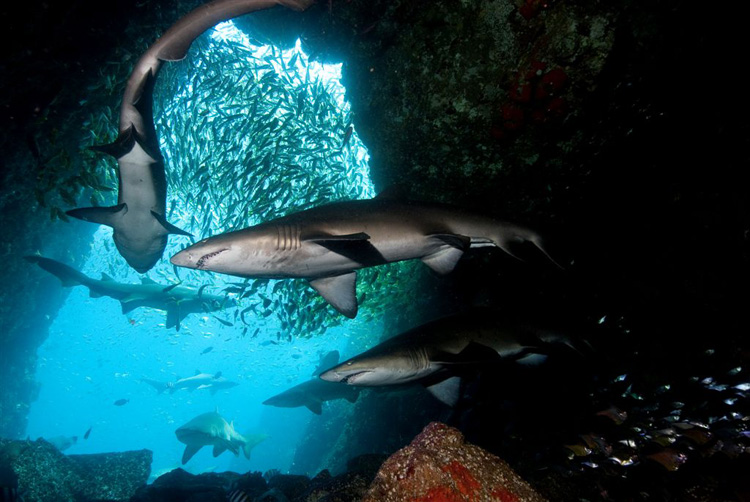 Fish Rock is my favourite photo location for Grey Nurse sharks for several reasons. They can they be found there in abundance during the season, this site provides a variety of photo locations and finally, our dive operator here is excellent. During our 2010 season trip I dedicated several dives to time spent hanging out inside the shallow entrance to Fish Rock Cave as the sharks would consistently patrol into the cave dispersing the schools of fish at the entrance. This provided lots of photo opportunity so it was then just a matter of getting the technical aspects right and good timing with the trigger.
Photo Data: Location: Fish Rock Cave, South West Rocks, New South Wales, Australia. Genre: Wide Angle Sunlight & Strobes. Nikon D200, Nikkor 12 - 24 Zoom lens, Seacam Housing & Dual Seacam Strobes, ISO 200, Manual Exposure Mode. Exposure f8 @ 1/30 th second. Image by Kevin Deacon.
Photo Hints: Select the exposure to render the cave entrance a nice blue. You will need to increase your ISO, select a slower shutter speed and open the aperture to about F8. That's about the middle of your aperture range on a DSLR or your smallest aperture on a Compact camera. Wider apertures than this will sacrifice good depth of field. Besides, I have noticed the Nikkor 12 - 24 Zoom lens is not sharp at apertures wider than F8. You will need to turn your strobe power down so you do not overexpose the white undersides of sharks. Shoot some test shots of the cave mouth to check your sunlight exposure and some shots of rocks or your buddy nearby to test your strobe power setting. Always position yourself to the sides of the cave so your presence and your bubbles do not disturb the sharks. Now you are ready for the action!