Dive 2000 is Australia's most experienced underwater photography centre with a history of underwater photography equipment sales and service, tuition and photo workshops, underwater photography tours and expeditions dating back over many decades.


Dive 2000 UW Photo Team Josie Ruth and Kevin Deacon with some of the range of equipment revealed
and recommended during photo workshops.

The Dive 2000 weekend photography course & workshop weekend is now legendary with both beginners, semi experienced and even somewhat experienced underwater photographers gaining a wealth of knowledge that takes their photographic expertise to a whole new level. With personal tuition from Kevin Deacon & Josie Ruth you are assured an entertaining and comprehensive learning experience in the beautiful location of Port Stephens on our NSW North Coast just over 2 hours drive from Sydney.
The weekend photo workshop experience is so successful that many come back to experience it again and hone their skills further!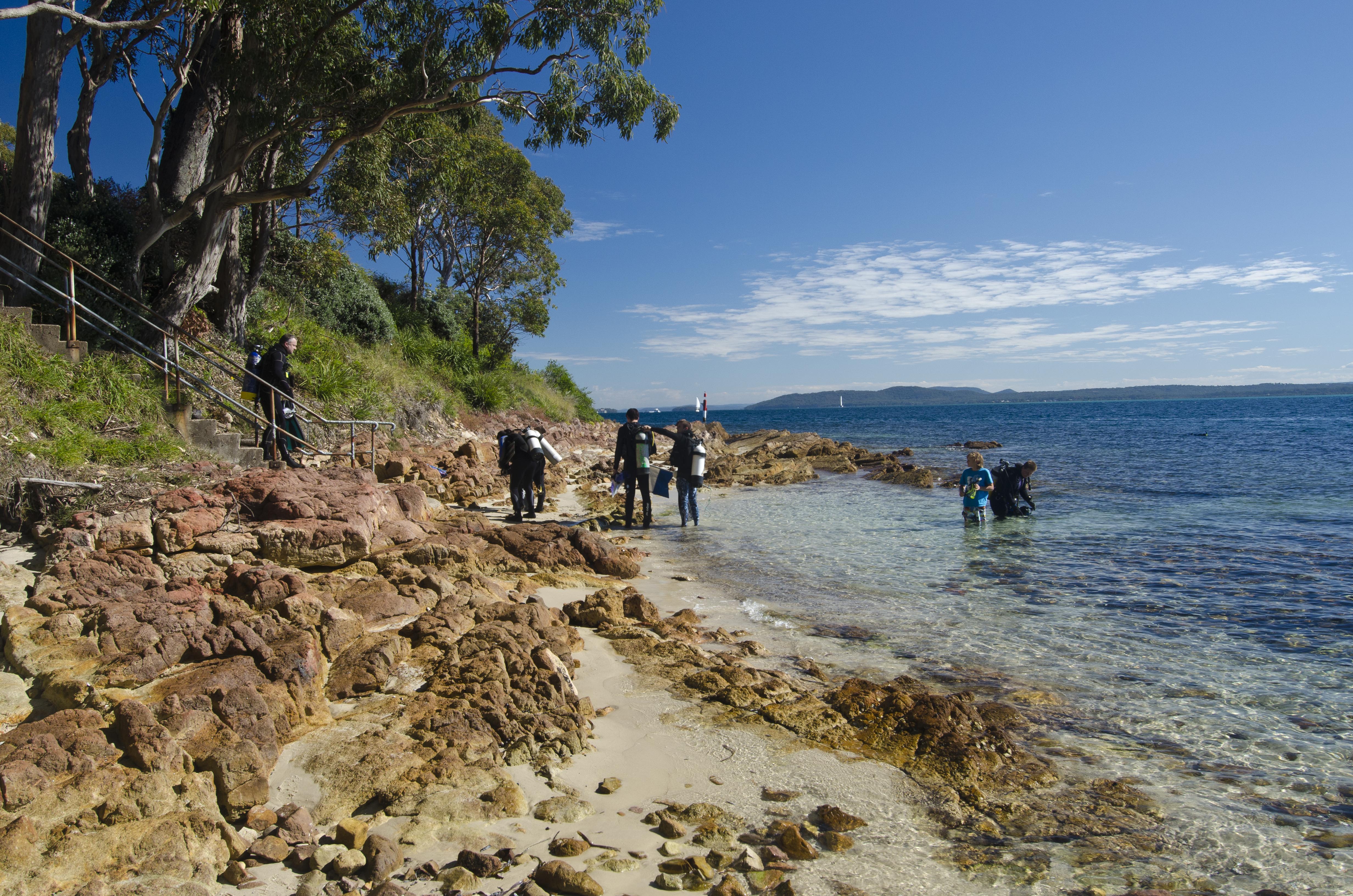 Fly Point dive site at Nelson Bay is ideal. Our divers gear up in the beautiful park above and descend
convenient stepsleading into the calm sheltered water.
Stunning Soft Coral & Sponge Gardens inhabited with fantastic marinelife are just a short swim away.
It is our favourite underwater photo studio!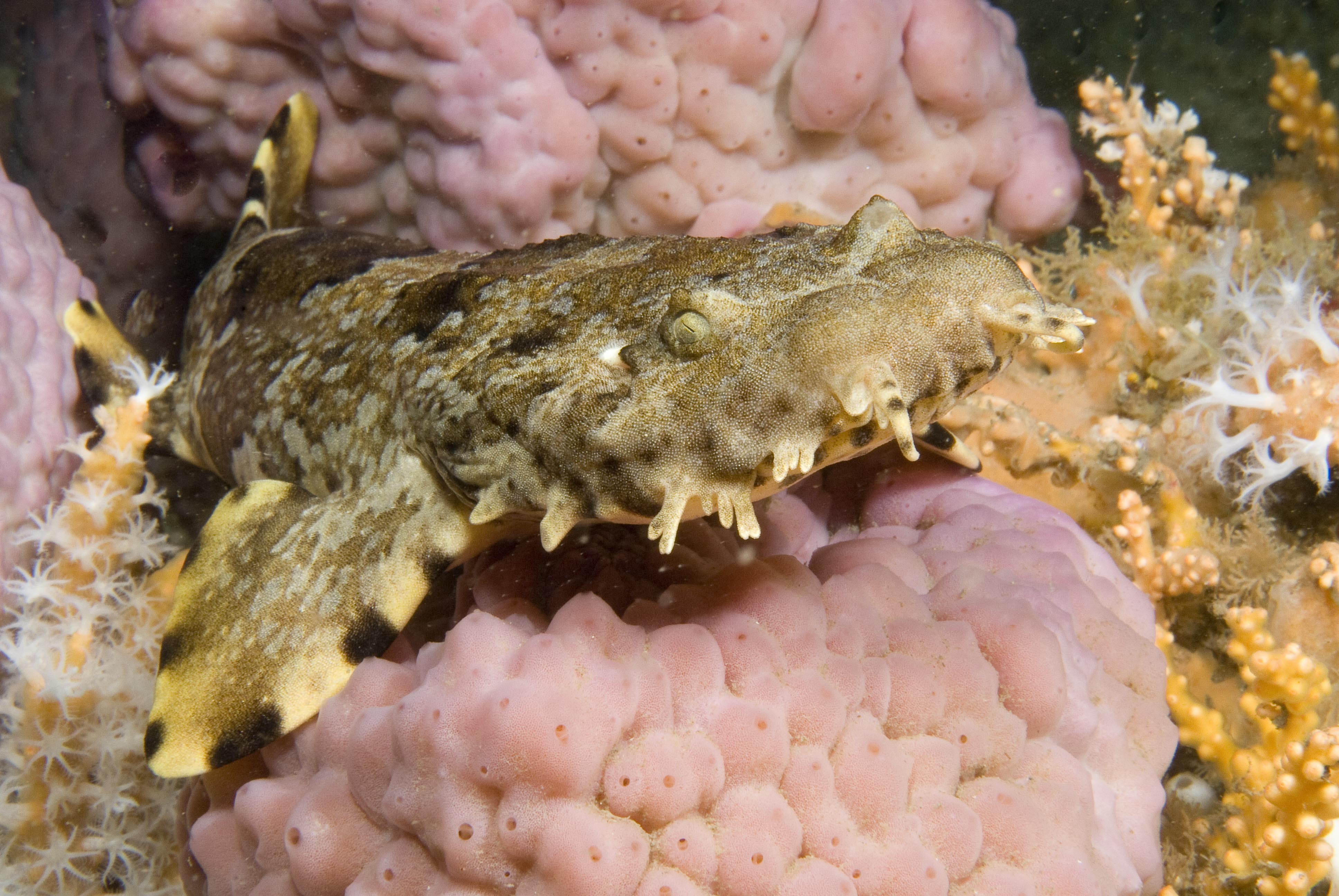 During our photo workshops, Nelson Bays Fly Point dive site provides many wonderful photo subjects such as this
Dwarf Wobbegong shark among colourful Sea Tulips and soft corals.
The weekend workshop deals with the camera settings and some basics before moving on to all the important genres of underwater photography images.
Following are just some of the key genres (typical types of underwater images) that are very important to master, these are covered in detail during the weekend programme.
MACRO PHOTOGRAPHY:
Including equipment requirements, camera settings, strobe positions and composition for Macro style.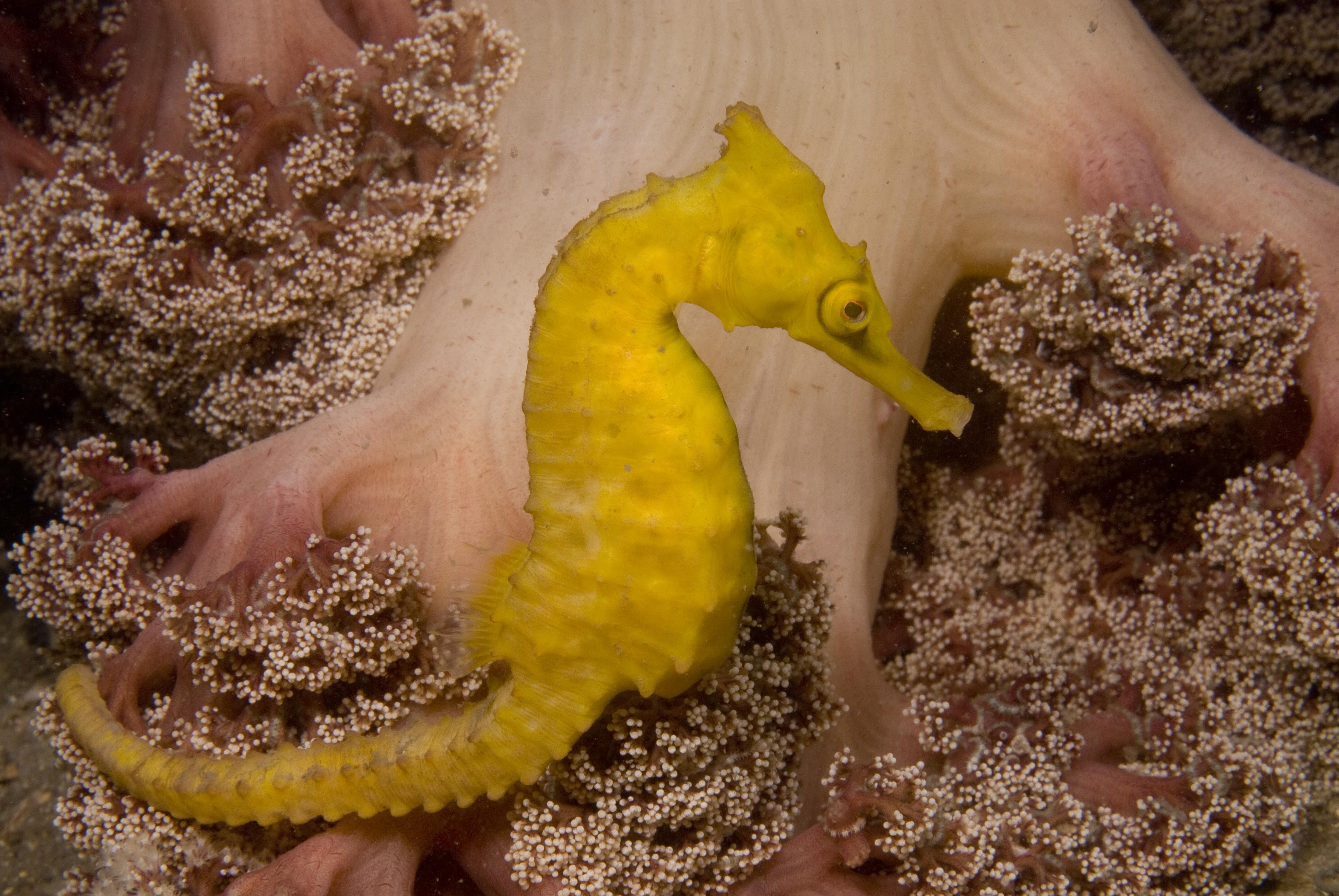 Macro Photography equipment & skills are essential for much of the mini marinelife the photographer will encounter.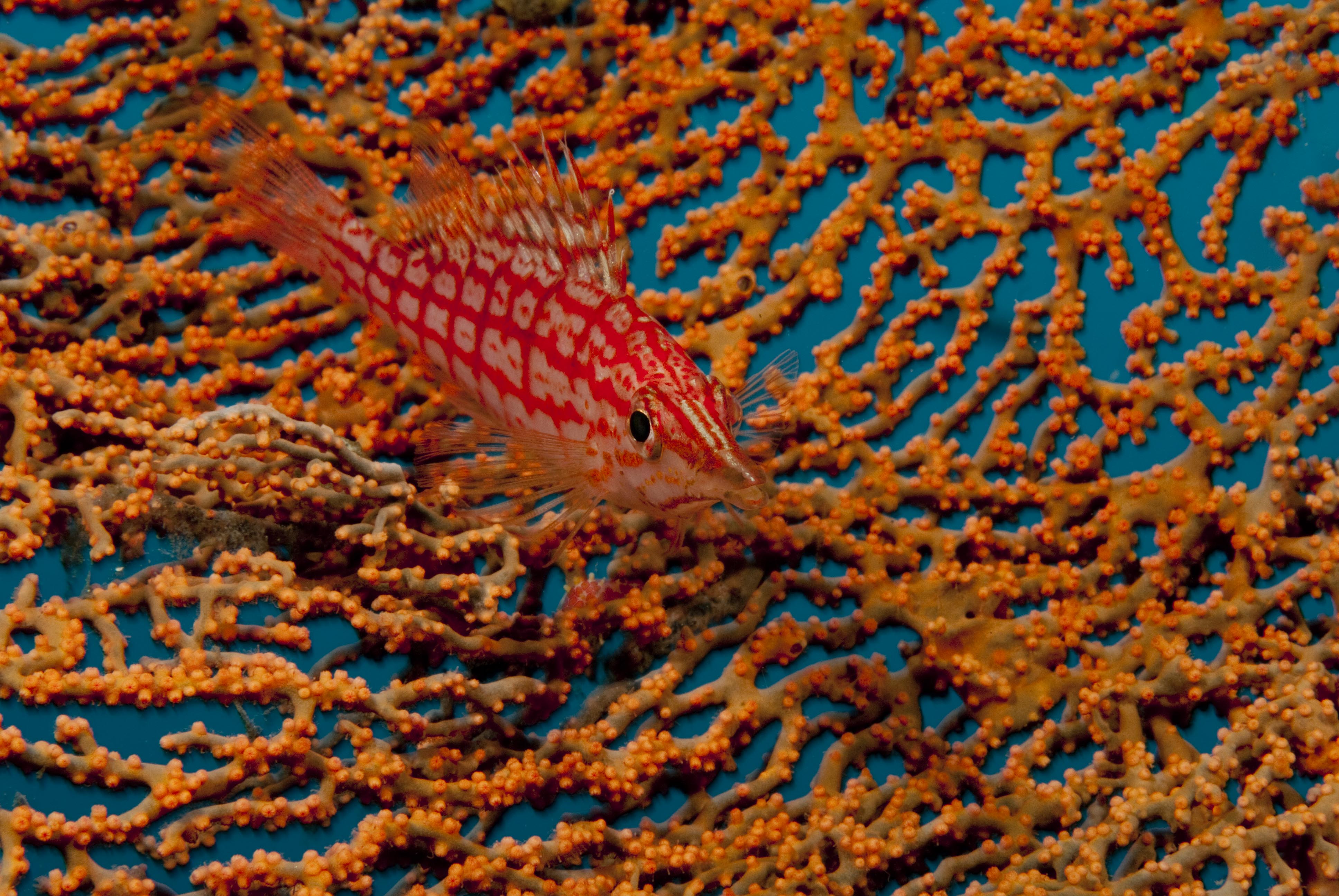 During the Macro portion of our workshop, participants learn how to capture images with blue backgrounds
and how to produce images with black backgrounds.
WIDE ANGLE CLOSE UP & MACRO PHOTOGRAPHY:
Including equipment requirements, camera settings, strobe positions and composition for Wide Angle Close Up style.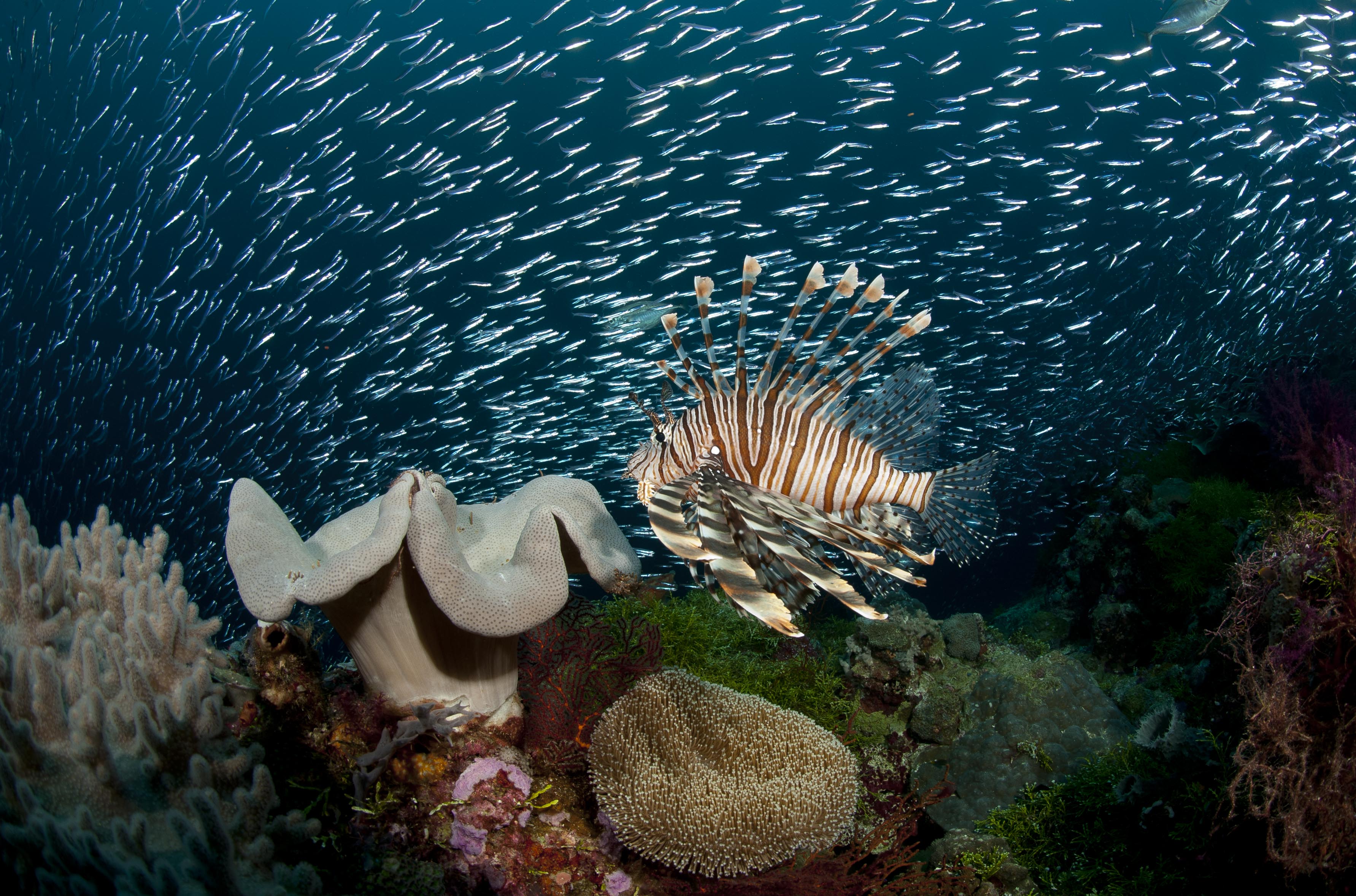 Wide Angle Close Up and Wide Angle Macro image capture is often overlooked.
Participants are amazed at the results possible using this technique.
WIDE ANGLE NATURAL LIGHT PHOTOGRAPHY:
Including equipment requirements, camera settings, sunlight positions and composition for Wide Angle style. This genre is how all big subjects such as large marine life, wrecks, caves and undersea seascapes are captured. Mastering this genre is essential for success as an underwater photographer.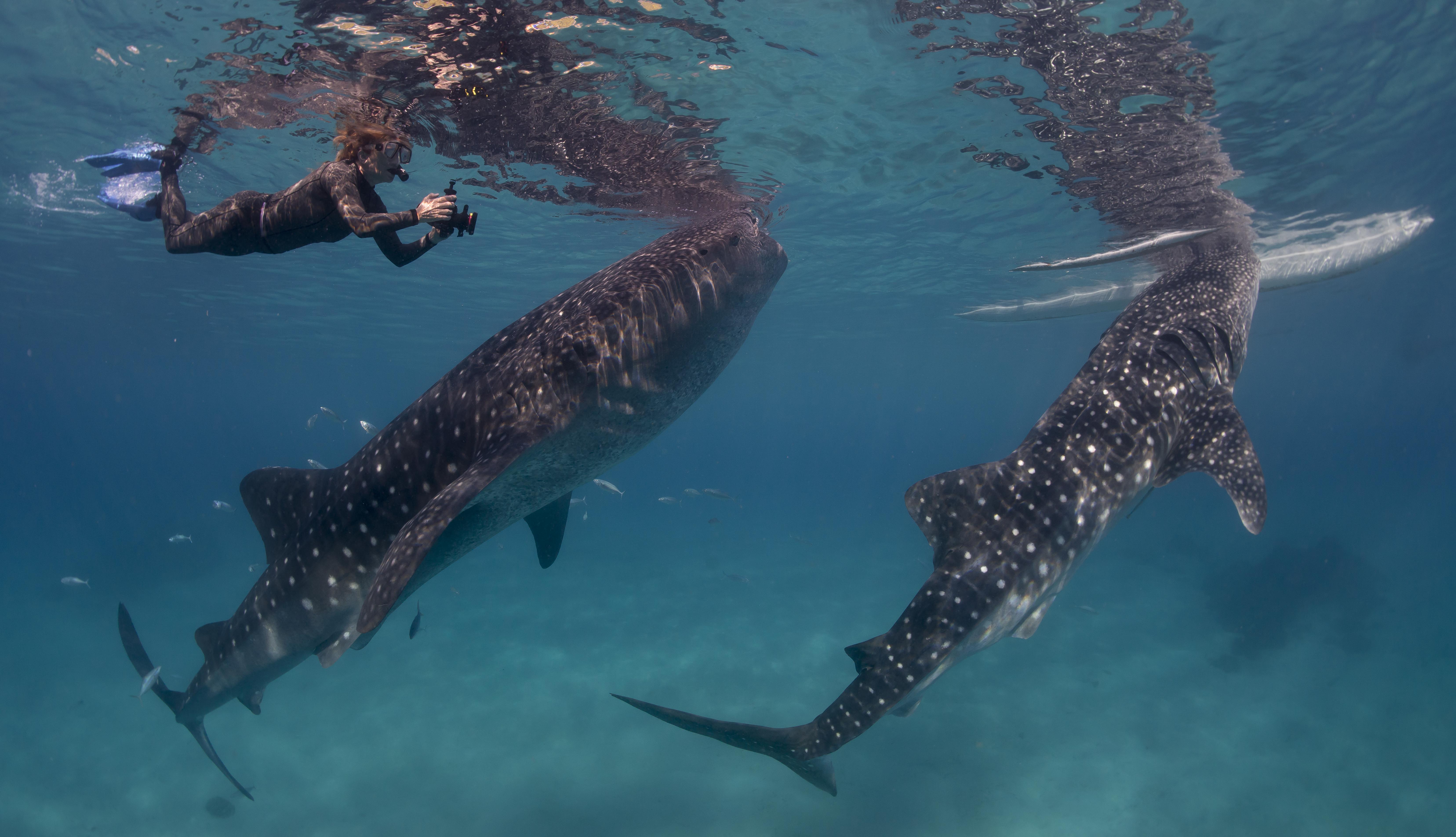 Action photography of big marine animals can provide spectacular images so our instruction of suitable lenses,
camera settings and correct use of sunlight will help to ensure success.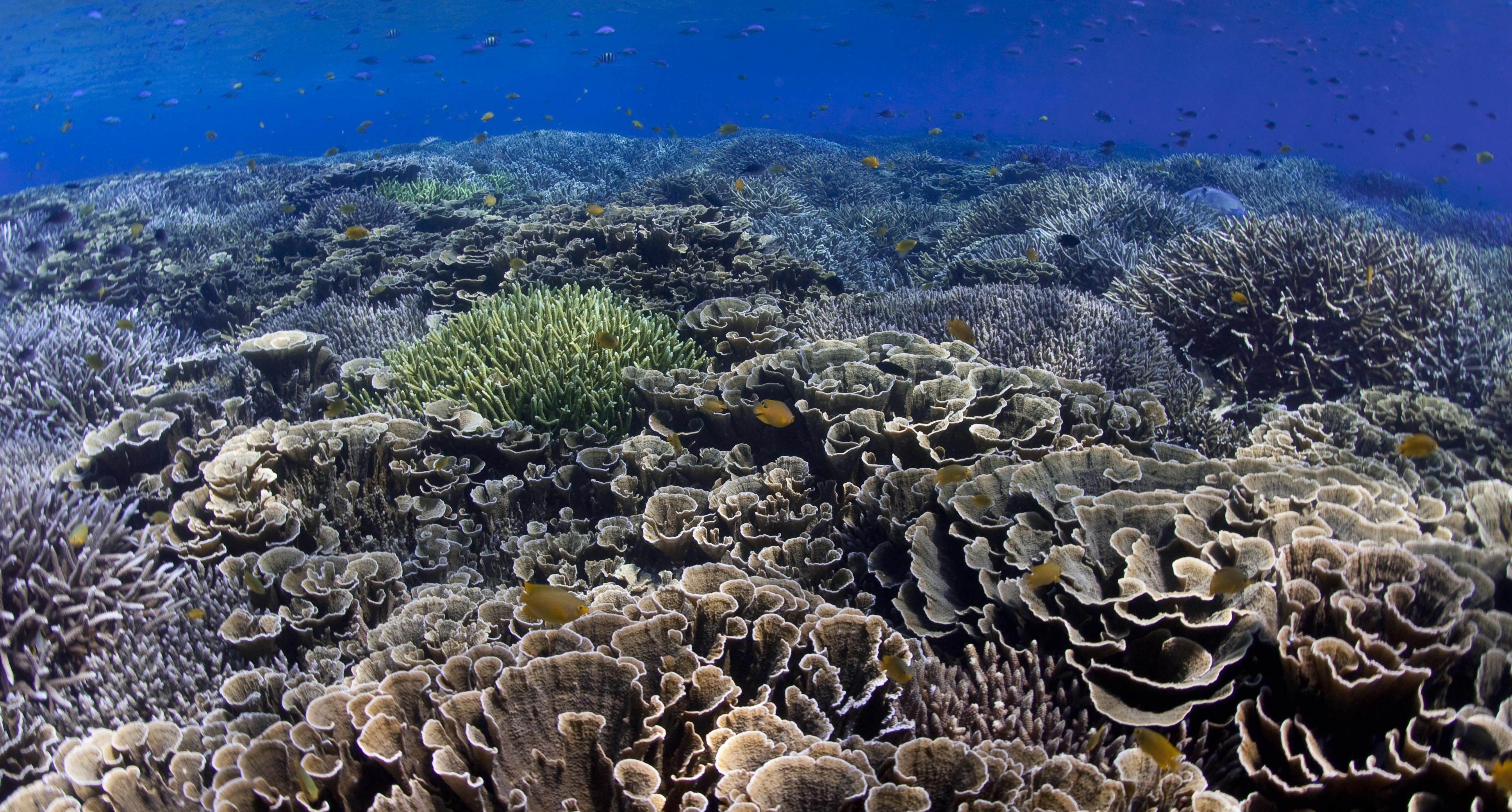 Information on capturing the simple yet often overlooked beauty of shallow coral gardens is an
inspirational element during our photo workshop sessions.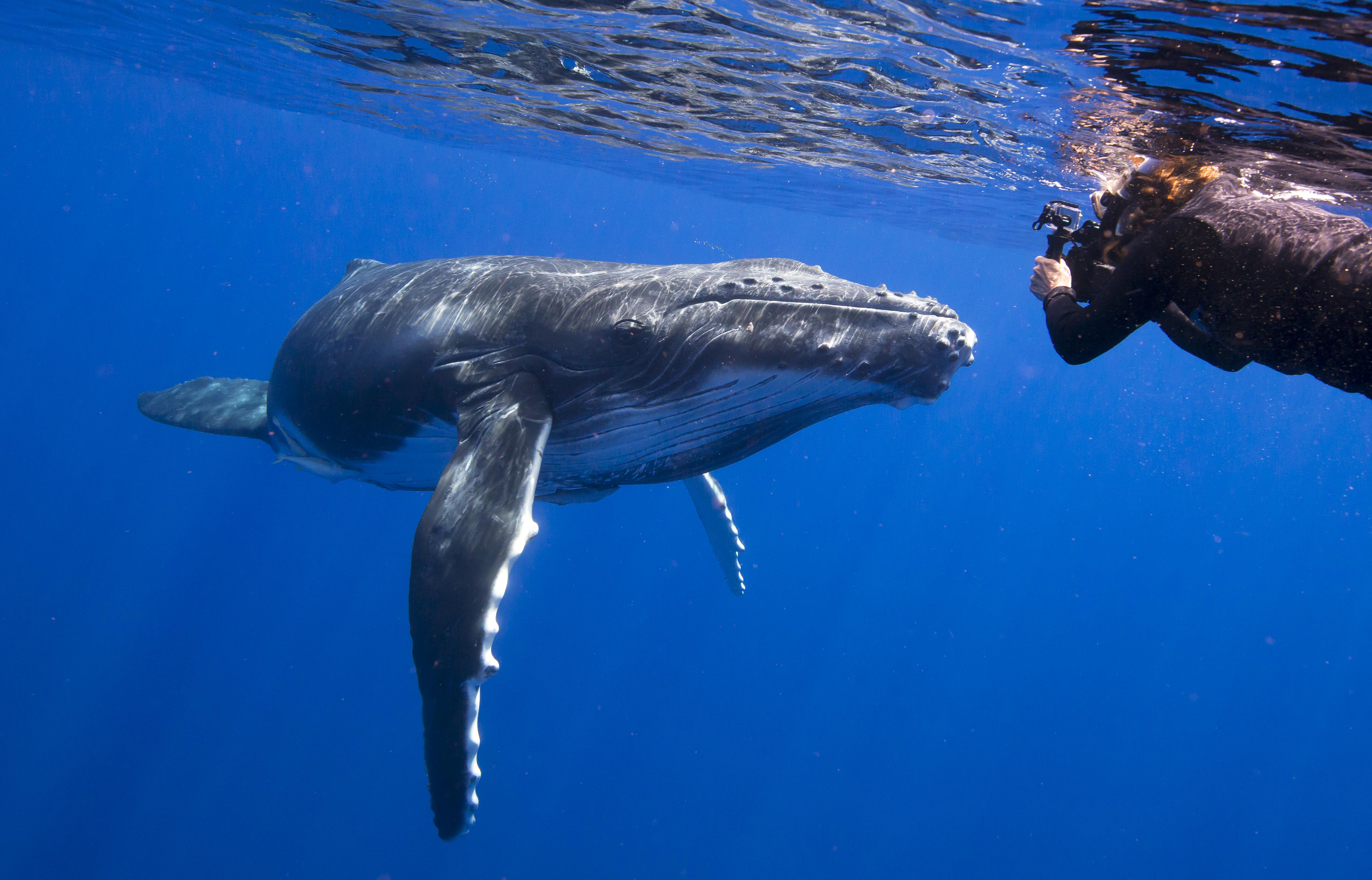 Cherie Deacon filming Humpback Whale calf and using all the skills she learned about big animal action photography,
techniques, settings and use of sunlight underwater.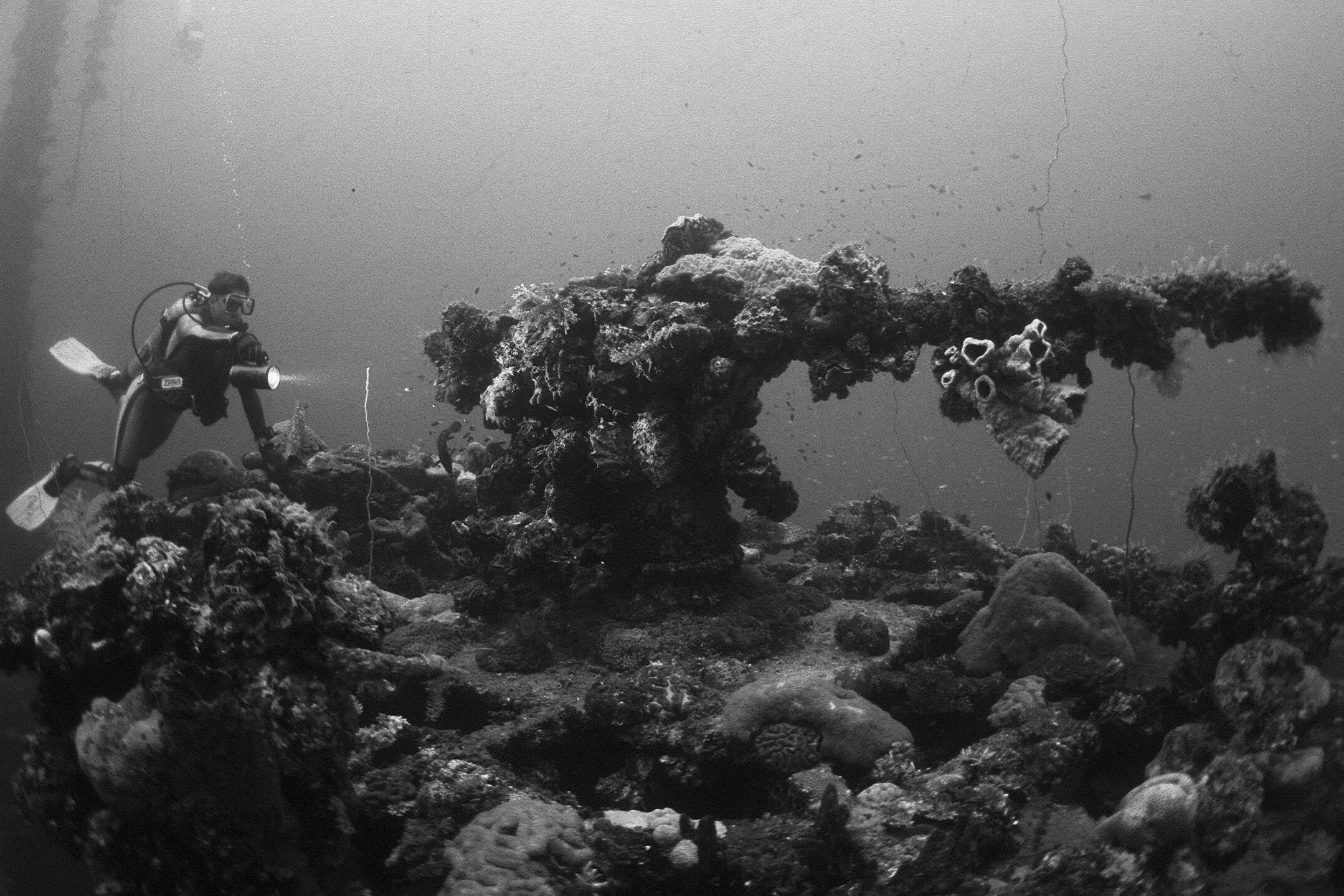 Best use of Black and White images is discussed
SILHOUETTE PHOTOGRAPHY:
Including camera settings and composition advice to capture spectacular backlit images.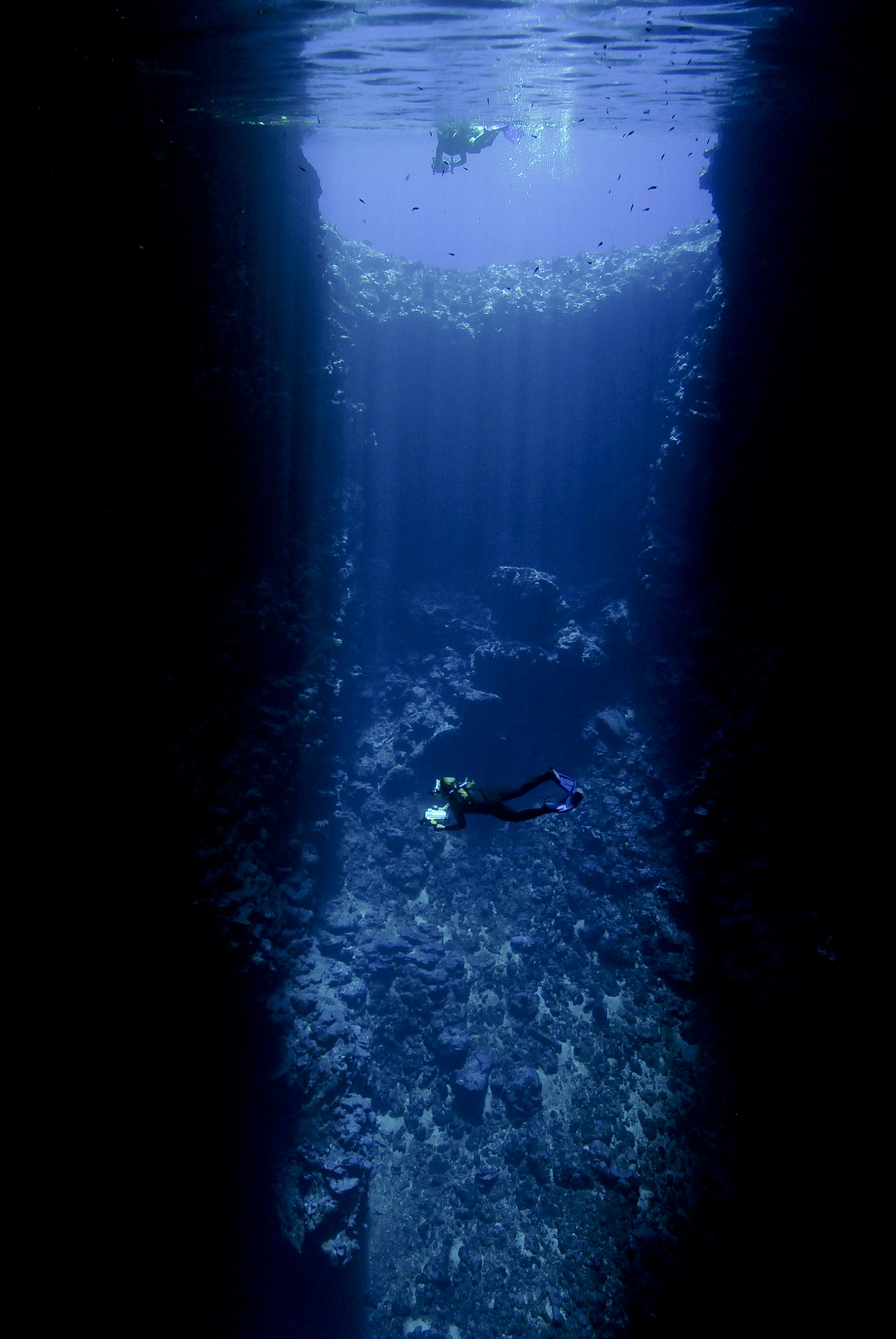 Silhouette Photography is a powerful genre involving the correct use of sunlight and picture angles.
Participants are shown how to manage the camera settings to avoid disappointing results.

WIDE ANGLE NATURAL LIGHT & STROBE COMBINATION PHOTOGRAPHY:
Including equipment requirements, camera settings, strobe settings and strobe positioning for this genre.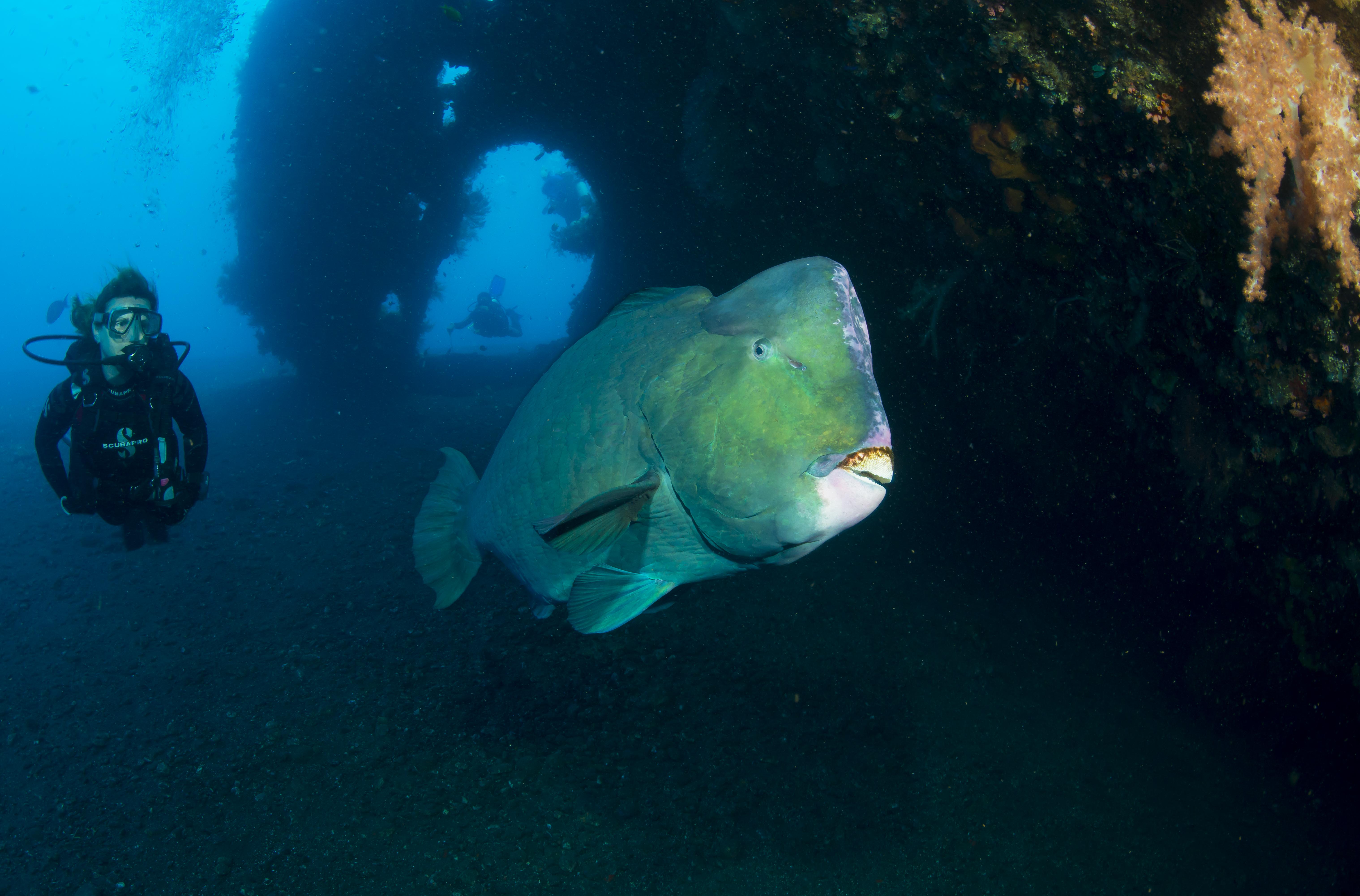 During the Wide Angle Photography with strobe workshop techniques of strobe positioning,
multi strobe light settings and composition are explained.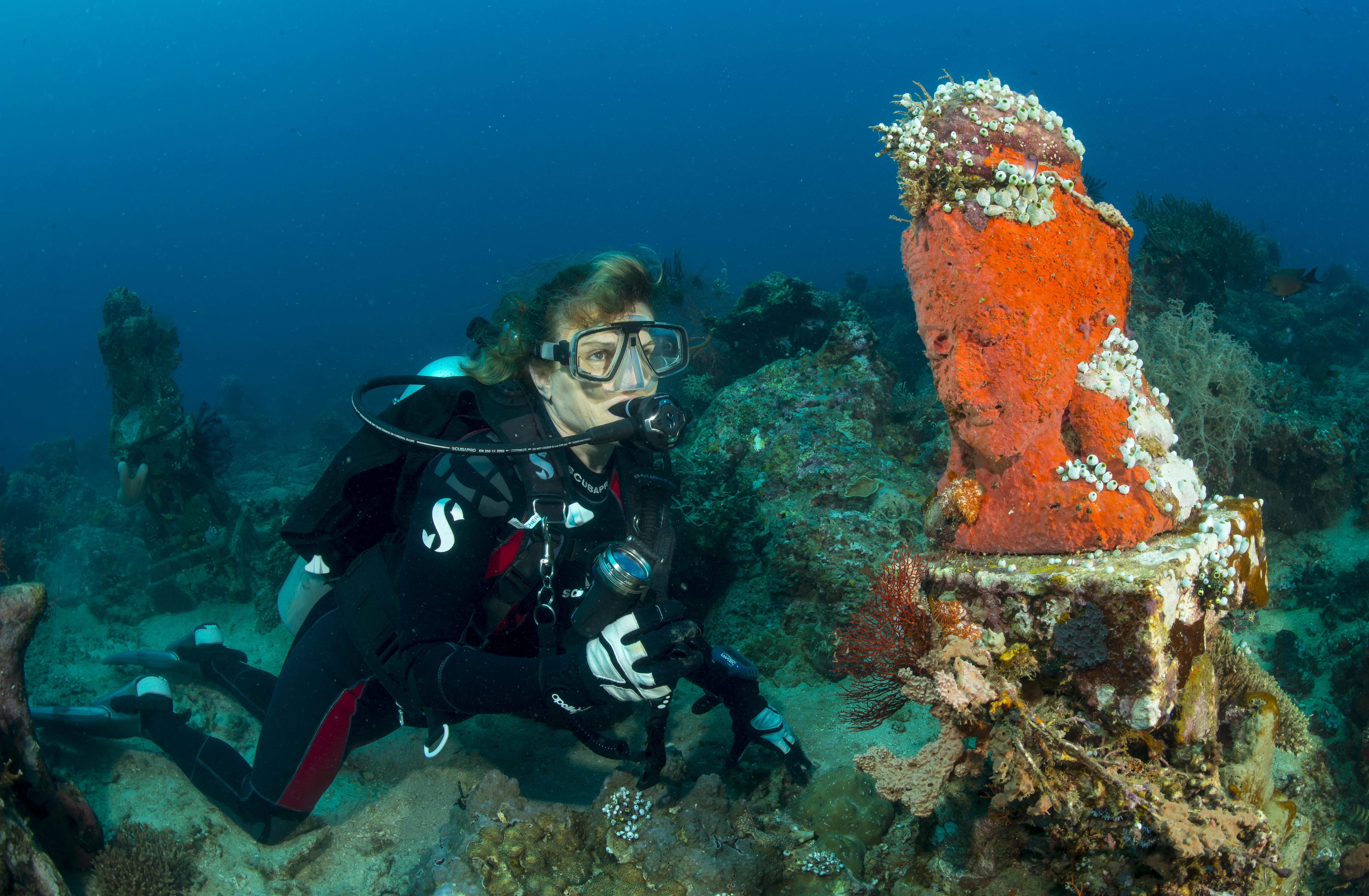 Use of diver models adds a nice element to some images but participants need to learn when and how to use them effectively. Composition and correct lighting is essential knowledge provided during the course.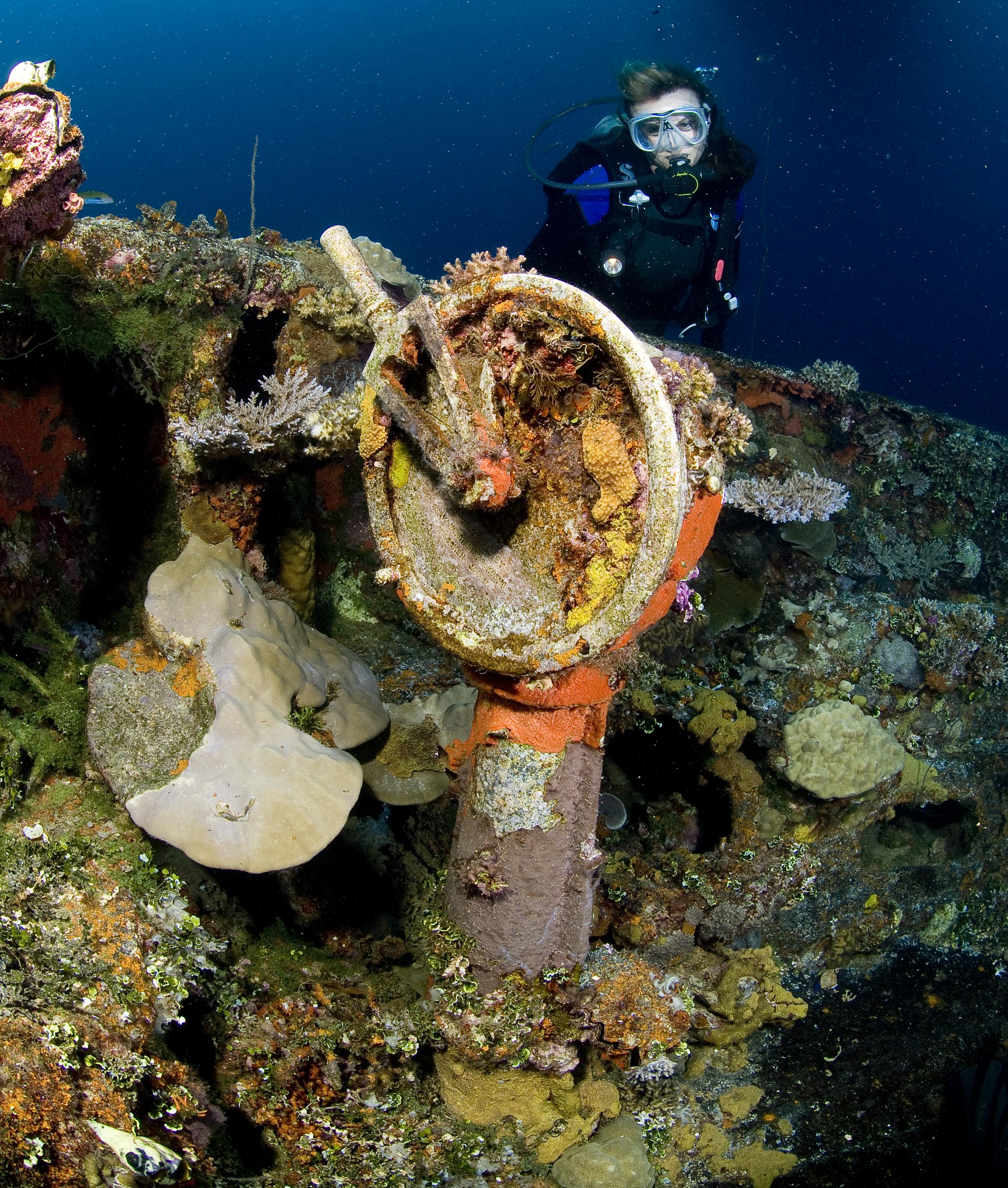 Learning how to capture images that tell the history of a shipwreck is an important skill.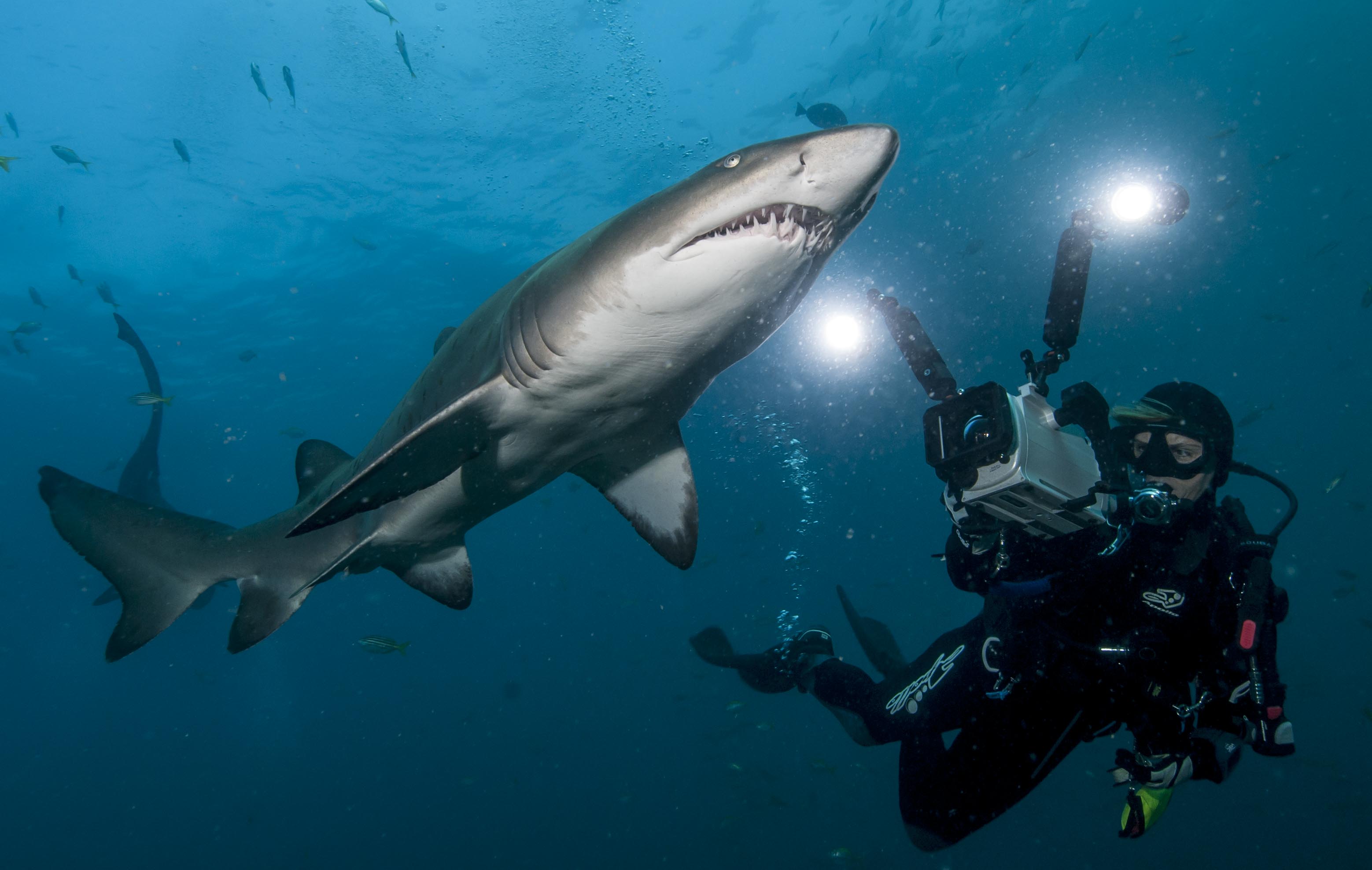 Cherie Deacon uses many skills all learnt during our photo workshops to capture exceptional video imagery.
Cherie's videos provide sensational entertainment at our annual Travel Night Event and many club events.
FLUORO PHOTOGRAPHY:
This is a new genre that can produce amazing new images. As we are pioneers in this field also we have perfected techniques, settings and equipment thus providing information for our participants keen on pursuing this new style.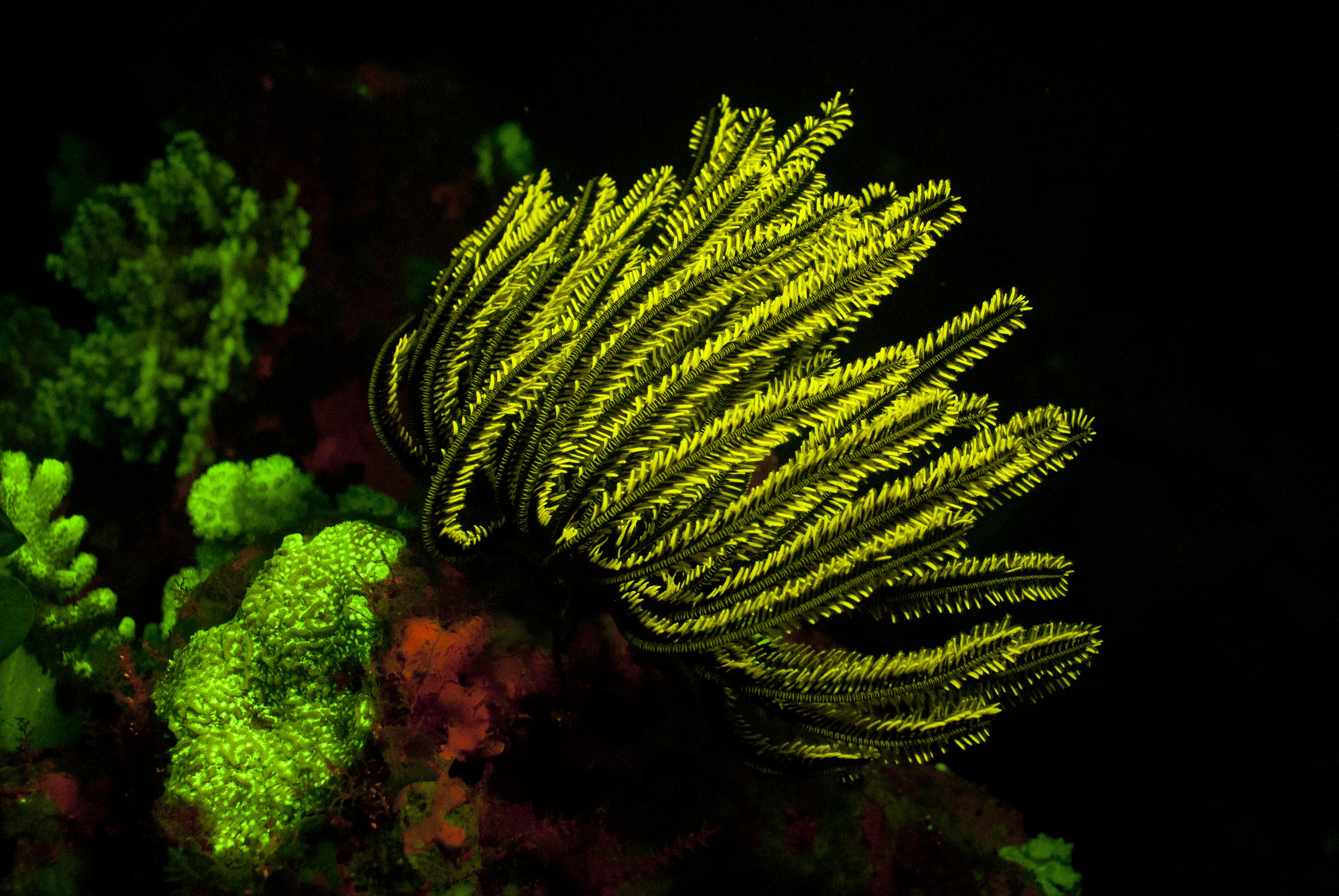 Fluorescing Feather Star & Corals revealed with special fluoro photo accessories and techniques.

POST DIVE IMAGE PROCESSING WITH ADOBE PHOTOSHOP LIGHTROOM:

All digital images need processing with specialised computer software to complete the image captured. This software also provides the opportunity to improve the images and option to provide further creative control.
Our session on use of post processing software is an essential element of producing good images.

Here is an example of a Coral Seascape image unprocessed and then processed.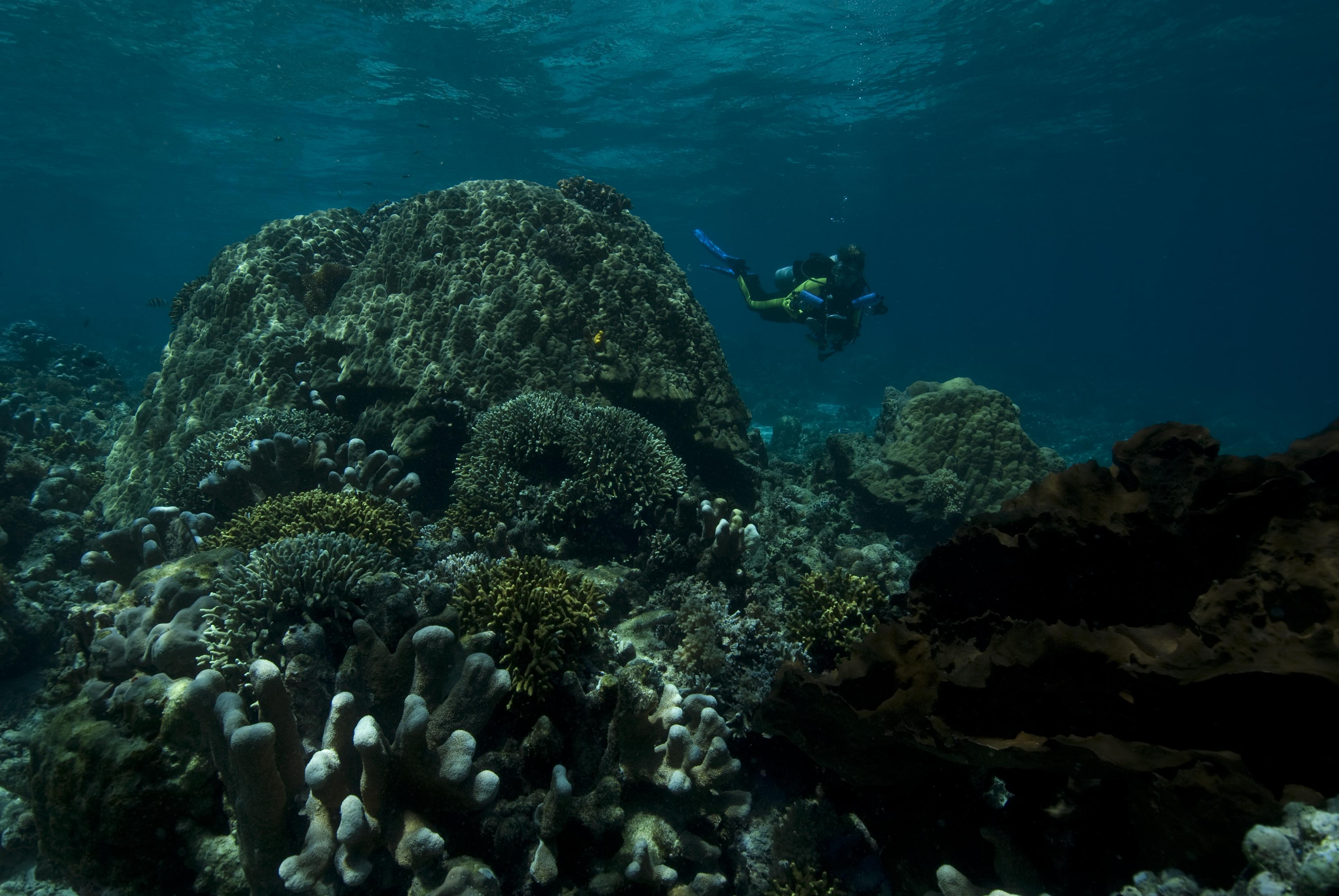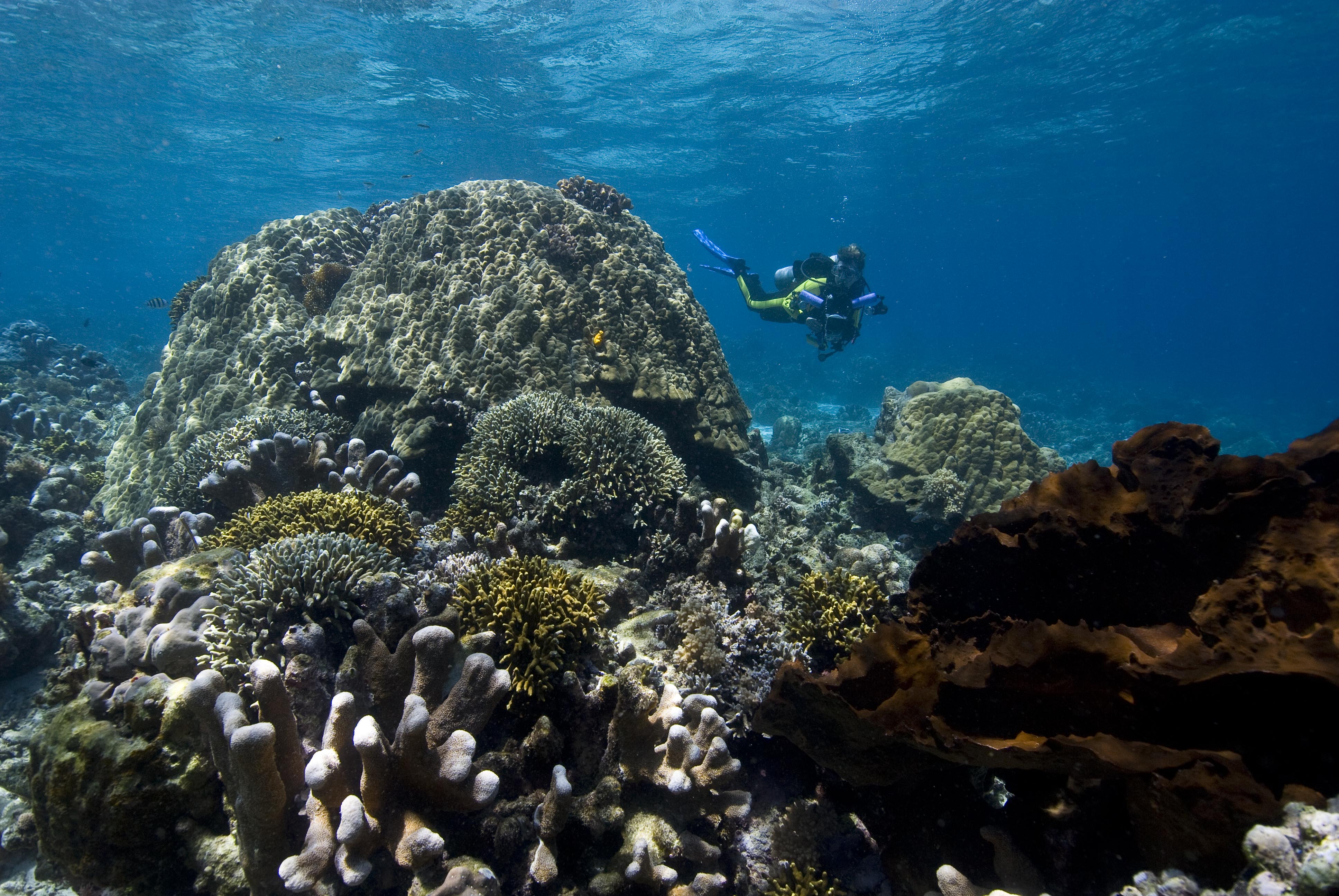 WEEKEND WORKSHOP PHOTO COURSE LOCATION:
The venue for the weekend is Halifax Holiday Park at Little Beach, Nelson Bay. Accommodation is available at a number of holiday villas within the holiday park and the facilities are excellent.
Base of operations is a large beachside Villa within the park providing comfortable space and facilities for the workshops. We put theory into practise at Fly Point, just 10 minutes drive away and arguably the best shore dive in NSW and definitely the best dive site for macro and wide angle close up photography in NSW.
Our participants do a midday dive each day which fits comfortably between the morning and afternoon workshops over the two days.
Accommodation is available from Friday afternoon and all weekend with the option to depart home after 6:00pm Sunday evening or before 10:00am Monday morning if preferred.
A BBQ is included on Saturday night providing a great social opportunity, fun, laughter and dive story agendas.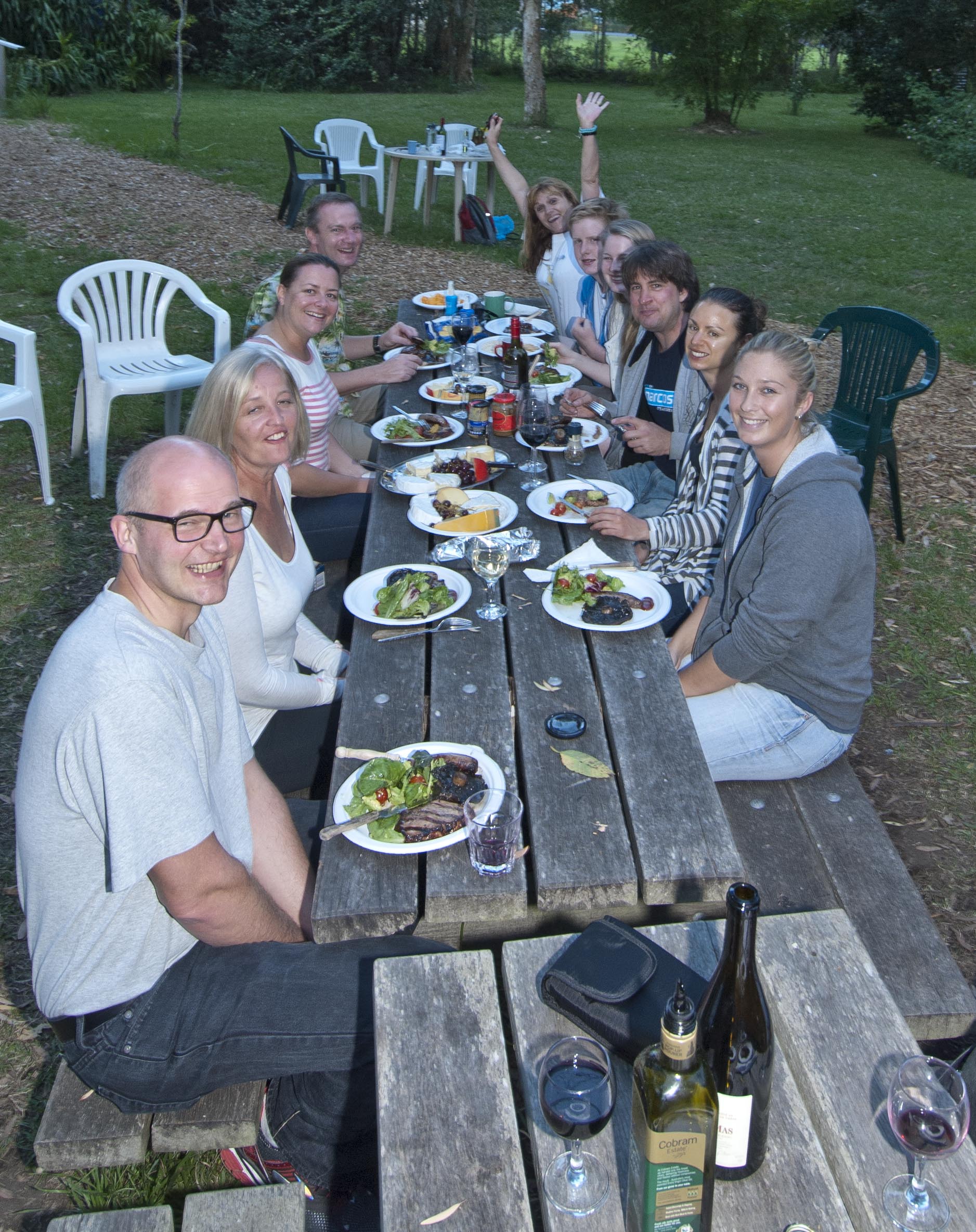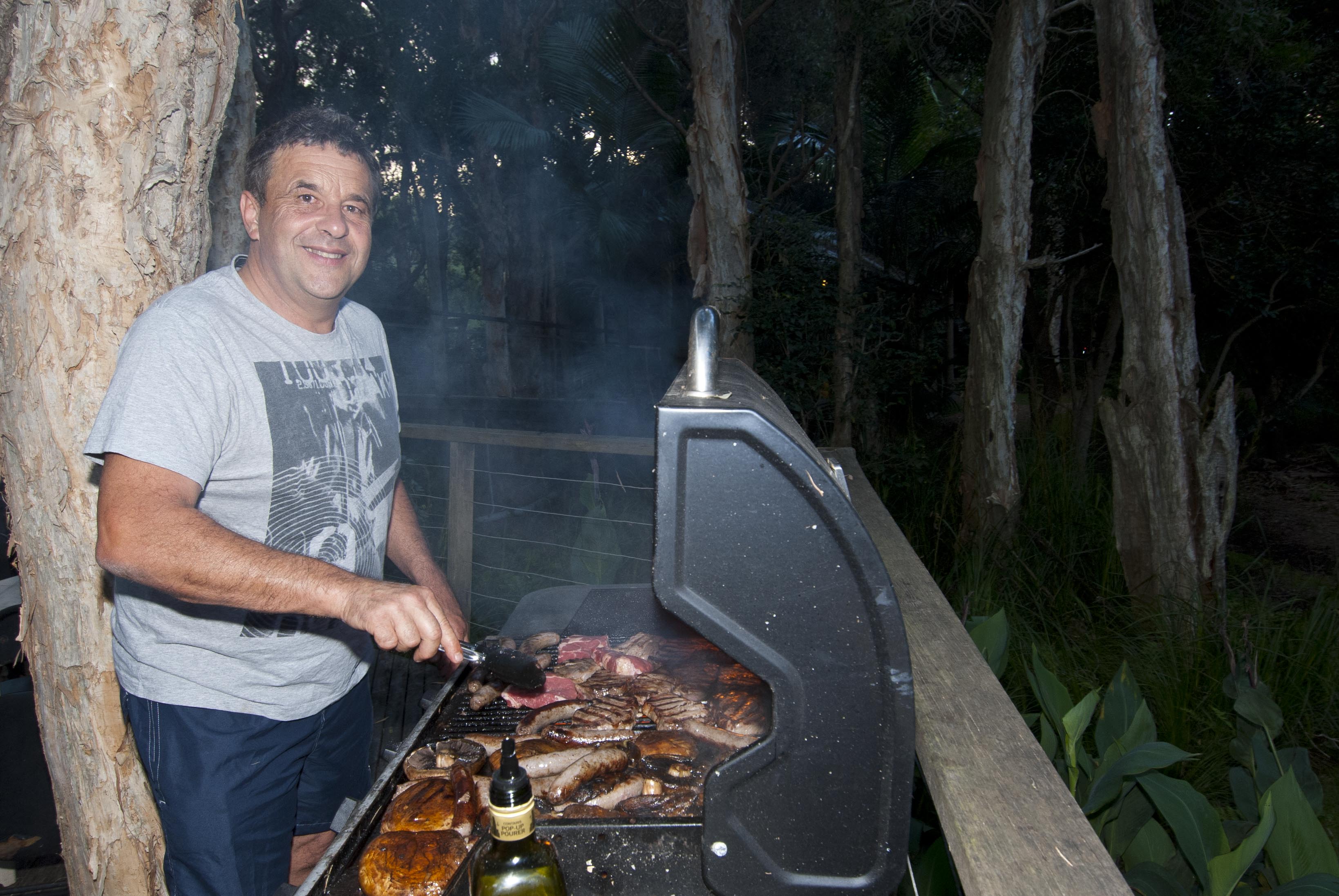 YOUR WORKSHOP PHOTO COURSE PRESENTERS ARE KEVIN DEACON & JOSIE RUTH:
Kevin Deacon pioneered underwater photography and photo courses in Australia, he has spent over 55 years shooting undersea images that have been published in prestigious books and magazines Worldwide. Kevin has won first place at some stage in every underwater photographic competition ever run in Australia including the Masters Award only open to previous competition winners, in other words, the 'Top Guns' Since then he has been elevated to the role of Underwater Photography Judging. He is the only person ever acknowledged and awarded the PADI FOUNDING FATHER OF UNDERWATER PHOTOGRAPHY IN AUSTRALIA.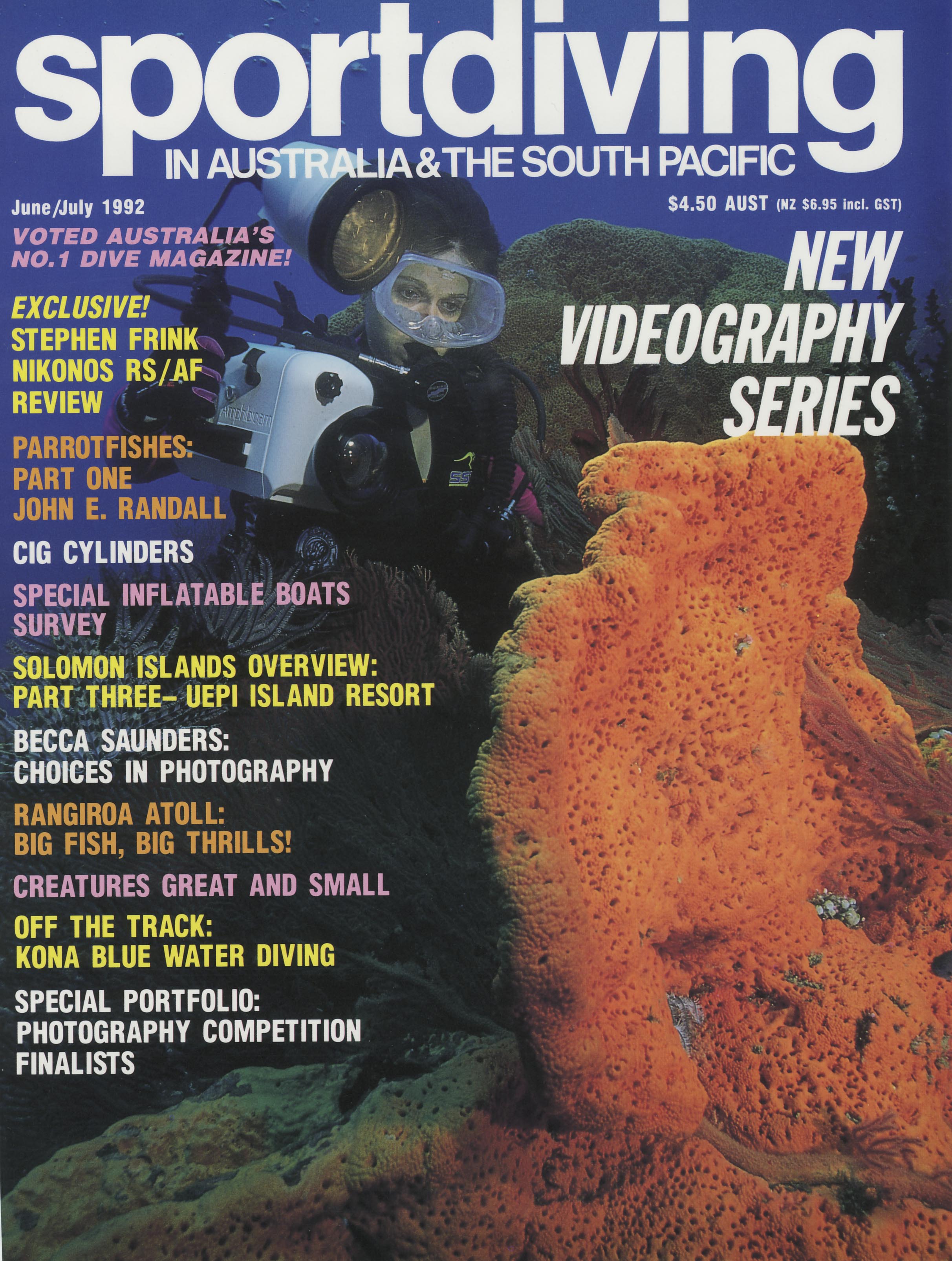 One of Kevin's many front cover images.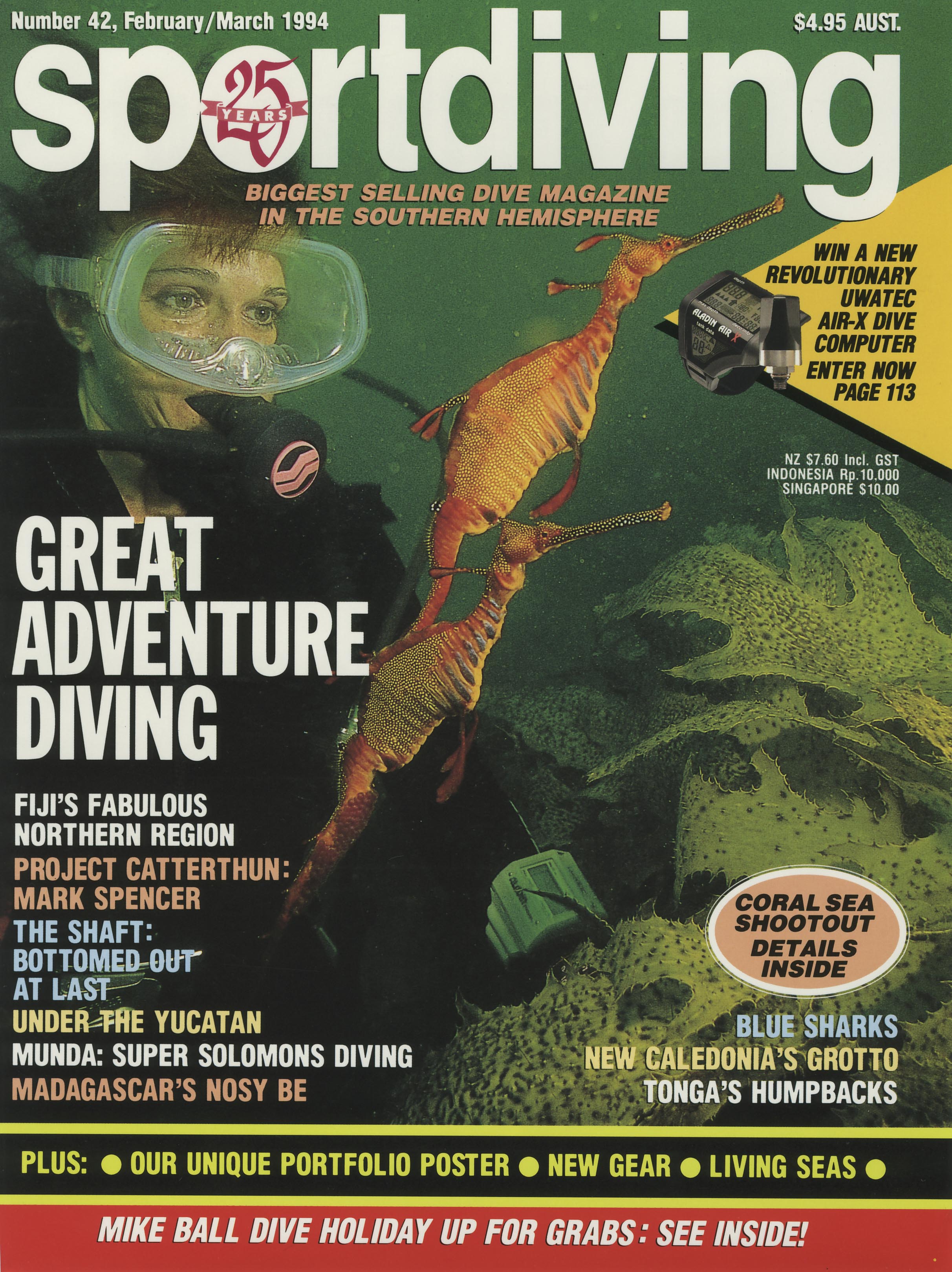 One of Kevin's many front cover images.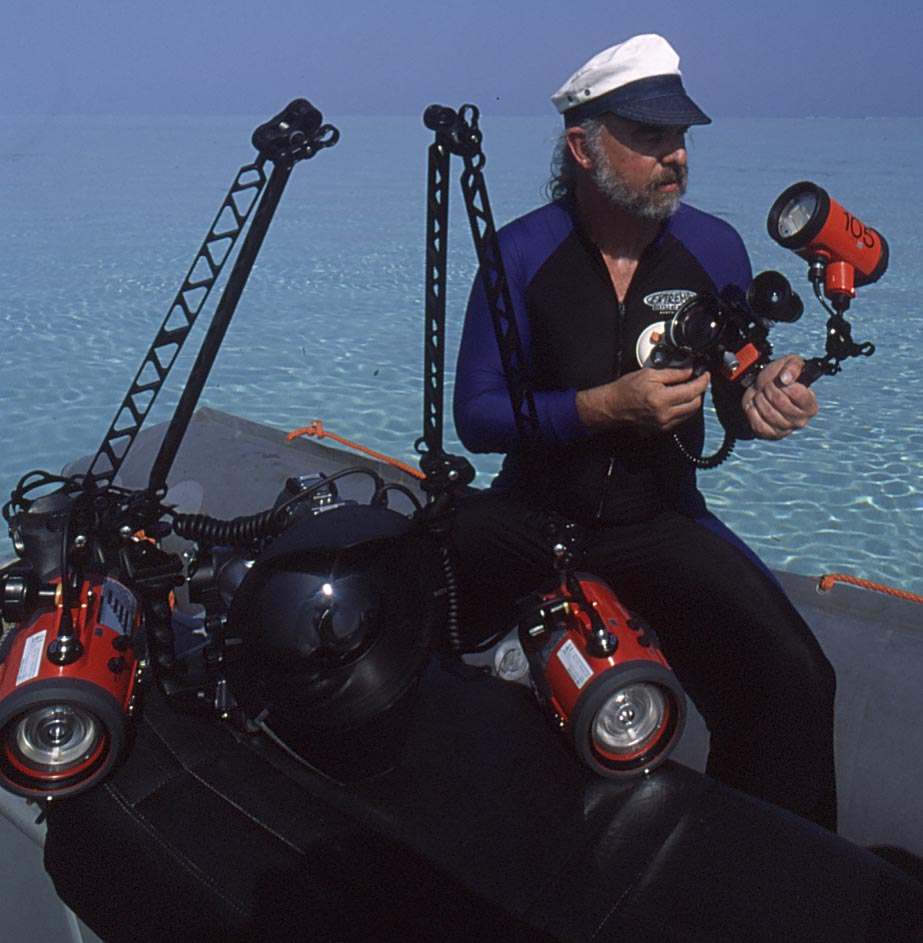 Kevin among an array of early film cameras at remote Ashmore Reef, West Australia.
Just one of many assignments for Australian Geographic Magazine over the past decades.
PADI SPECIALTY COURSE QUALIFICATION:
Our program more than qualifies for the PADI Underwater Photographer qualification. If this is important to you for recognition or as part of your PADI Master Diver Qualification, this certification is available at any time after the course as an option.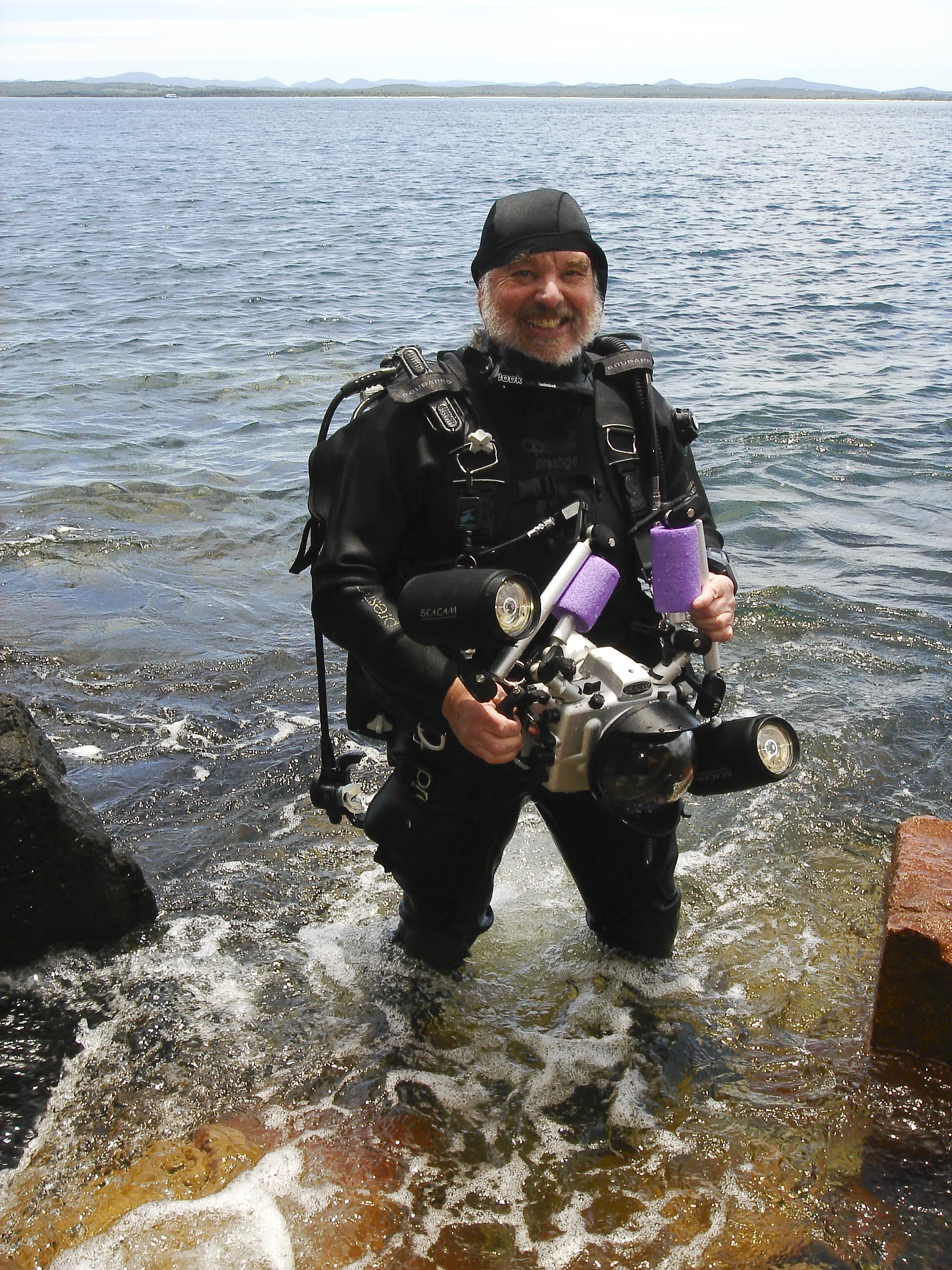 Kevin Deacon exits the Nelson Bay dive site `Pipe Line' clearly happy about some images he captured,
probably the picture of the yellow sea horse on soft coral.
Nelson Bay's dive sites are Kevin's favourite local underwater photography locations.
For more information on our Underwater Photo Courses:
http://www.dive2000.com.au/UnderwaterPhotoCourses
RECENT POSTS
No posts to display