Cherie and I have been exploring and photographing African Wildlife on regular safaris since 1996.
Our Safaris have included Zimbabwe, Zambia, Namibia, Mozambique, South Africa including Cape Town, Eastern Cape & Kruger National Park & many safaris to Maasai Mara, Kenya.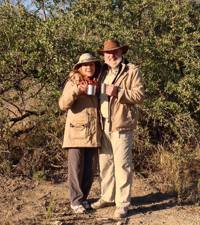 Africa's terrestrial wilderness is the only place on Earth that provides us the same excitement as our many explorations of the World's marine wilderness. Africa safari offers an exact parallel.
On safari we find ourselves in a Safari Lodge or Luxury Tented camp instead of a Dive Lodge, a game drive vehicle instead of a dive boat, a wildlife guide instead of a dive guide, among thousands of wildlife species large and small instead of marinelife large and small.
Only divers and wildlife safari enthusiasts will ever know true nature in the raw and come face to face with the most magnificent and fascinating life on Earth.
DIVE 2000 AUGUST SAFARI GROUP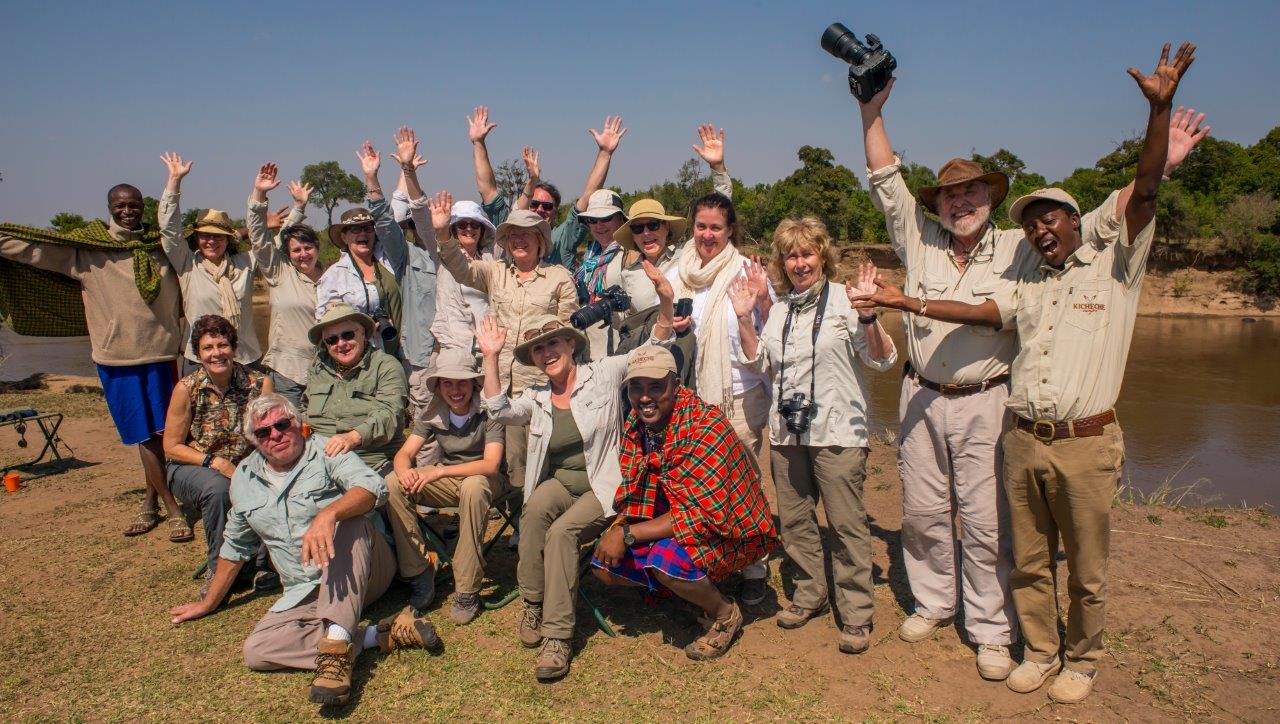 August 2017 was the beginning of a new era for us, we decided to offer our experience and expertise so we organised Dive 2000's first Africa Safari & photographic tour for our clients and friends. The destination chosen was Maasai Mara in Kenya during the African spring which coincides with the birth of many species and the largest animal migration on Earth. Over one million wildebeest, 200,000 Zebra & thousands of antelope migrate from Tanzania to Kenya providing the greatest wild life spectacle in the World.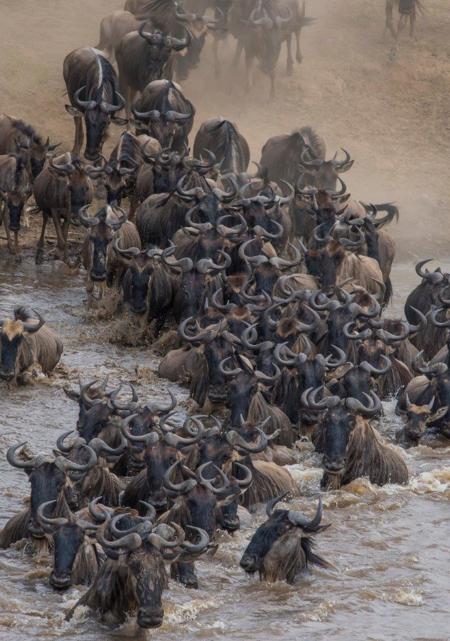 We booked the services of our favourite Safari operator in Kenya with the best reputation for exceptional service and wildlife photographic expertise. They have five luxury camps, all in private reserve conservancies inside the Maasai Mara which excludes the crowds and ensures no competition at wildlife encounters and no stress to the animals.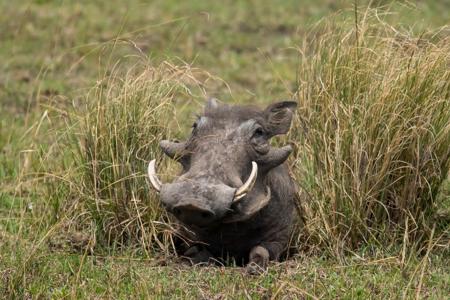 NARIOBI, CAPITAL OF KENYA
Arriving in Nairobi the adventures began immediately as Cherie and I introduced our 15 participants to the wonderful wildlife rescue centres famous for their conservation work with Elephants & Giraffes. Our group was enthralled to experience close up action with baby elephants and kisses from giraffe's, encounters they had never imagined!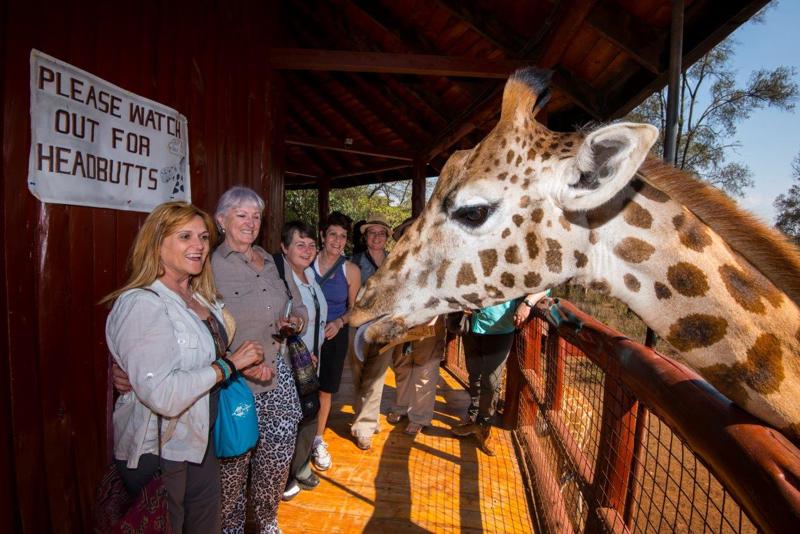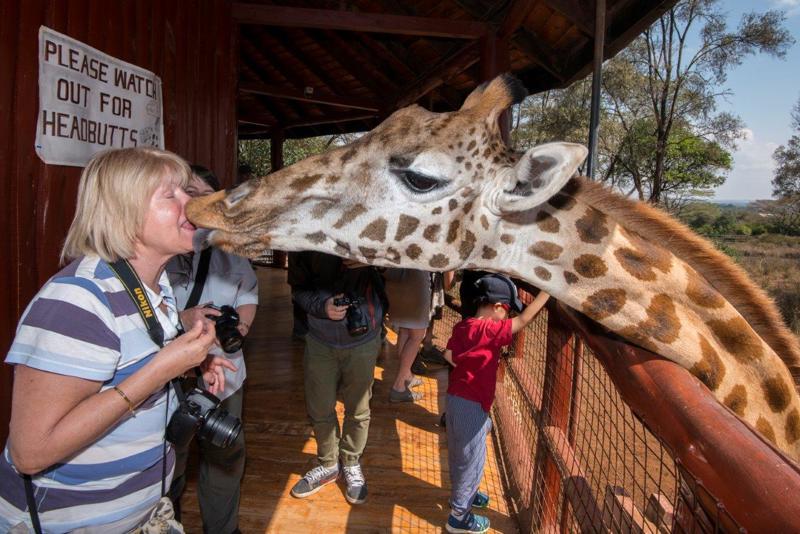 SAFARI CAMP LIFE.
A short flight next day in our charter aircraft had us landing in the heart of the Maasai Mara wilderness where we boarded our fleet of game drive vehicles for the transfer to our camp.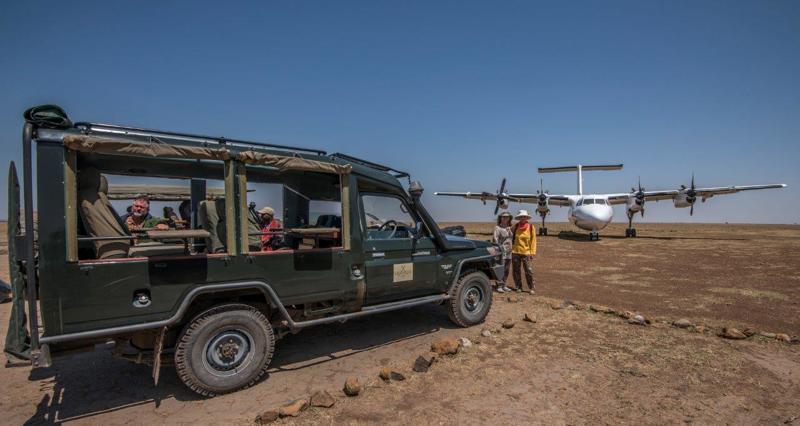 Although the camp was less than an hour away, it took longer as we were often distracted by wildlife on the way, eager hands fumbled for cameras among baggage and capture cards began to fill, the safari had already begun!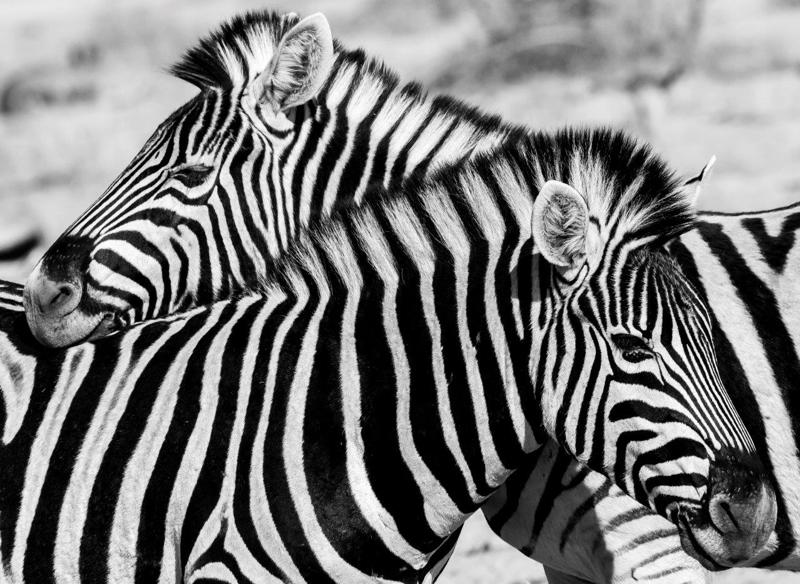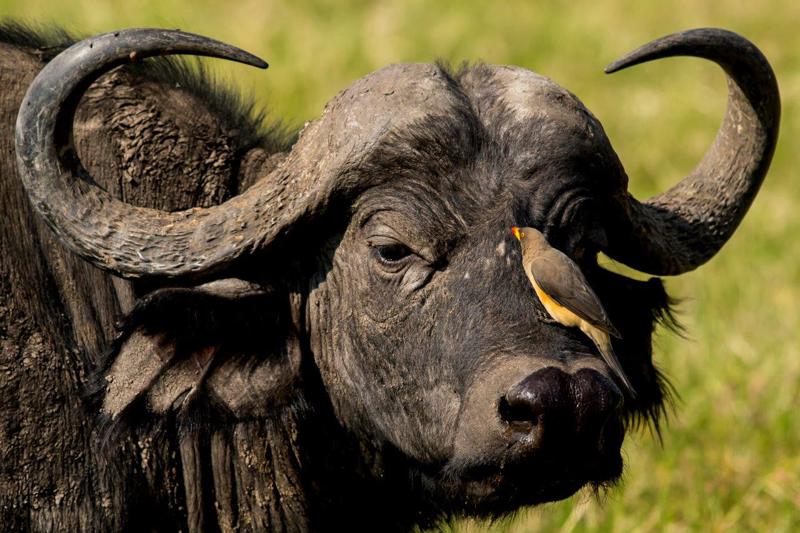 It brought back memories of our first safari camp transfer in 1996 interrupted by a herd of elephant crossing our path and all we could access was a happy snapper compact film camera. On this safari transfer, iphones were the instant solution!
Arriving at our camp we were greeted to the first of many scrumptious dinners! Crisp white wine under the shade of tall Leadwood trees never tasted so good while gazing across the plain where giraffe, zebra and impala grazed.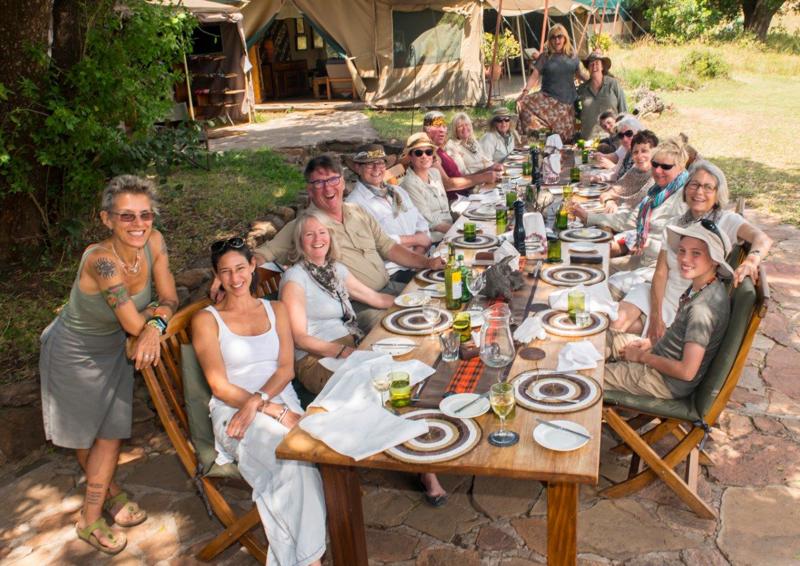 As guests were shown to their accommodation many exclamations of `Oh Wow' echoed about the camp, safari life is luxurious in cottage size tents with timber deck balconies, large comfy beds, flush toilets and hot showers.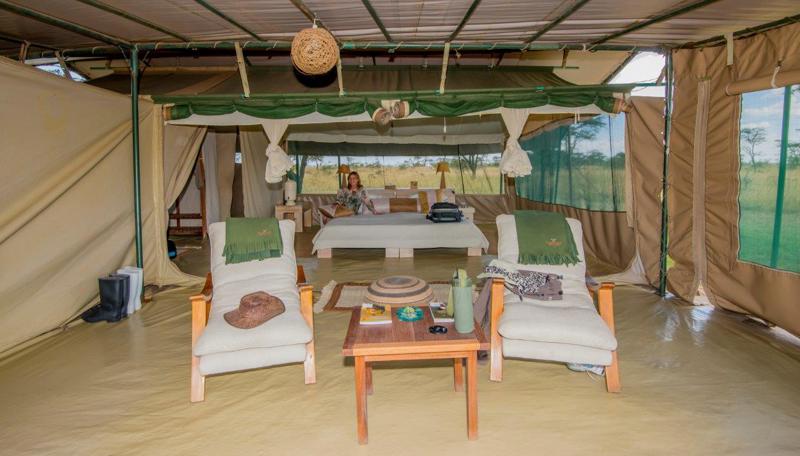 GAME DRIVES ON THE MAASAI MARA
I am not an early riser but I love making an exception on Safari. Around 5:30 am your morning starts with hot chocolate, tea or coffee and bickies before departing into the African dawn rugged up in layers to ward off the chill. This is the coldest part of the day but pleasurable and it won't be long before the layers start to peel off as the sun arcs across the sky!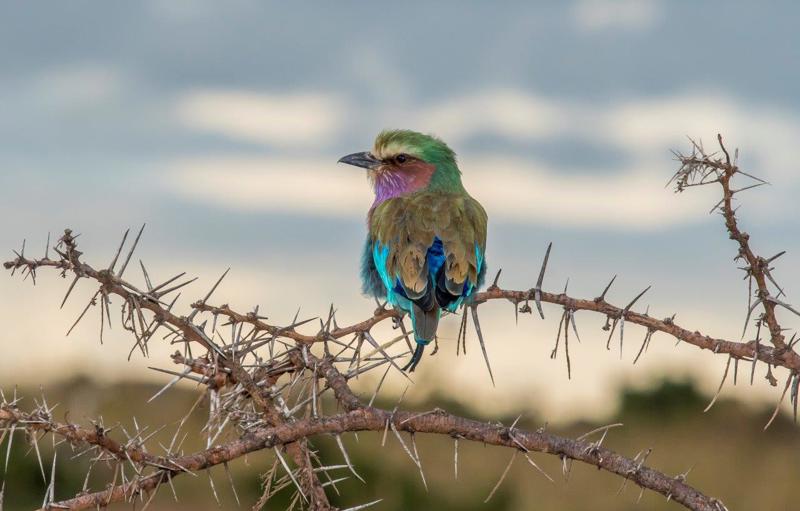 Encounters with wildlife are assured but you never know what they will be, only that it will be nature in the Garden of Eden at her best!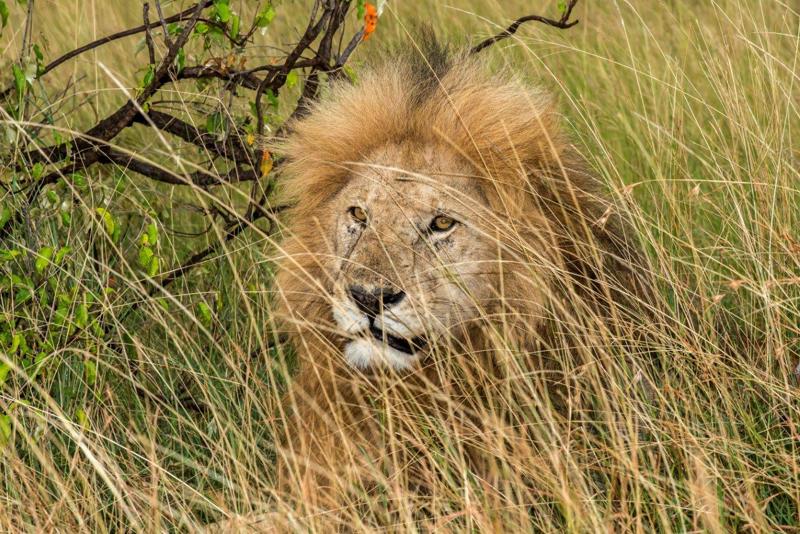 Before you know it, you pull up somewhere in the Maasai Mara, set up a table and enjoy breakfast. We safari veterans have a ritual, your coffee is not complete without a dash of Amarula! Google it if you don't know what it is!
You will meander through the wildlife on the way back to camp for a delicious lunch and a rest while all the wildlife is doing much the same!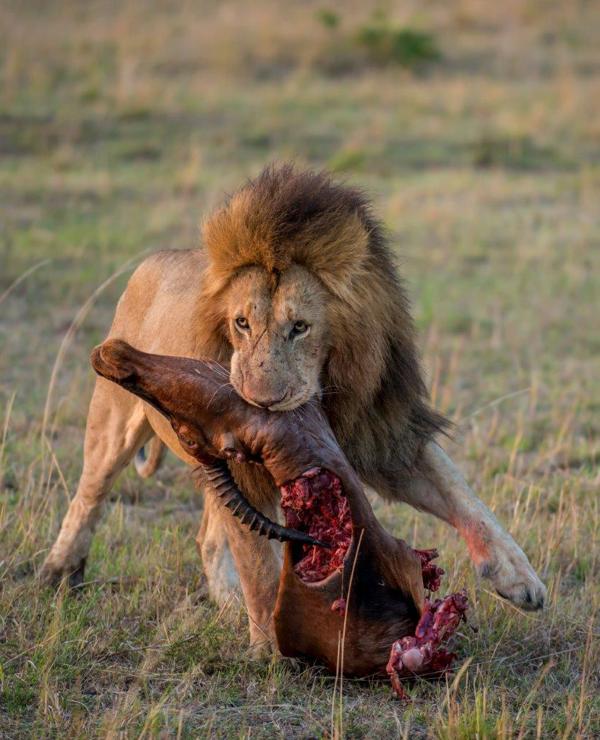 Mid afternoon, boarding your safari vehicle you will depart into the wildness again as the wildlife is becoming active, going on the hunt or grazing and trying not to get eaten! You just don't know what you will see! When the sun dips to the horizon another African Safari tradition plays out, from a vantage point you will disembark, erect portable tables and camp chairs and engage in sundowners, a delightful ritual that includes biltong, nibbles and usually involving gin & tonic or your preferred mix of anything!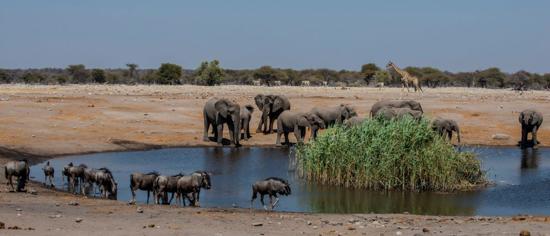 Returning to camp you look forward to washing off the dust under a warm shower, gathering around the camp fire to share your adventures with the safari group before adjourning for another great meal. Here you will also discover what you missed today but don't worry, it's all going to happen again tomorrow and tomorrow on safari is always different to the day before!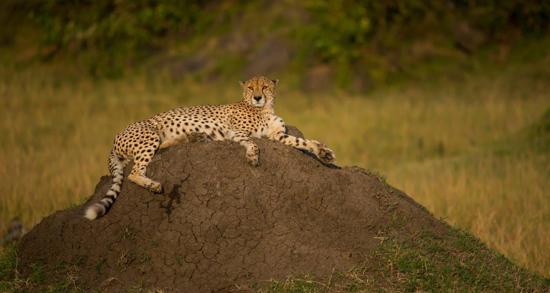 You will drift off to sleep cosy in your warm bed tucked up to your hot water bottle, lulled by the night sounds of the African bush, the laugh of hyena or the far off roar of a lion.
OUR ENCOUNTERS
With thousands of wildebeests, zebras, antelopes, buffalo, hippos, crocodiles, birds, giraffe, and lions, great wildlife encounters were assured but our timing also ensured beautiful interaction with calves, cubs, pups & foals.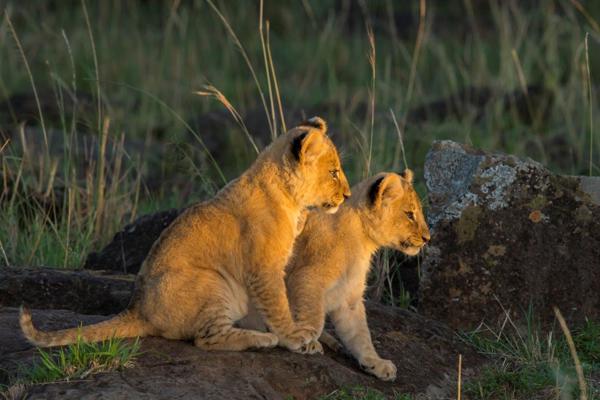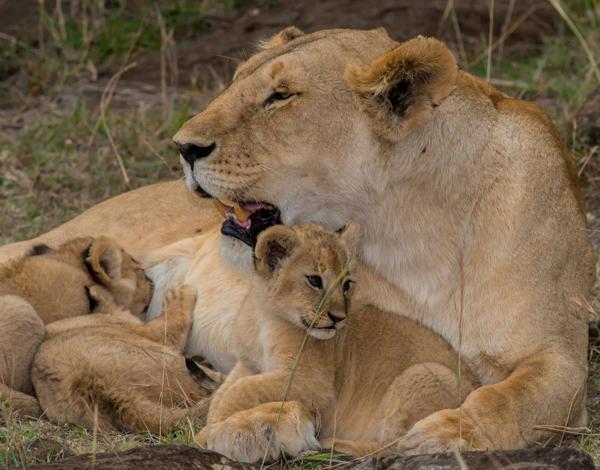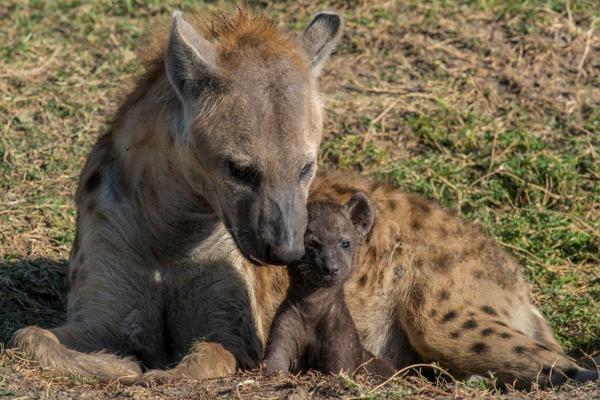 There is nothing like the interplay of lioness and baby cubs, leopard and her cub, elephant families with their babies, zebra foals cavorting and even cute hyena pups playing to bring out the parental instincts and our group got to see it all.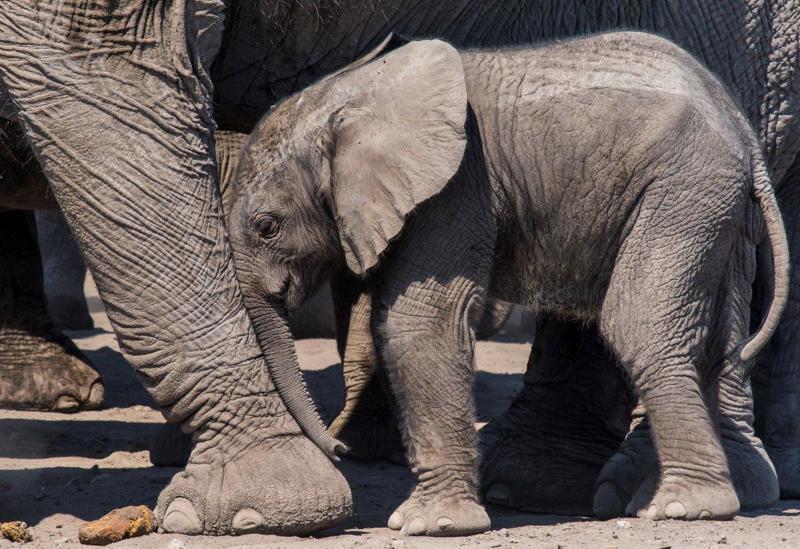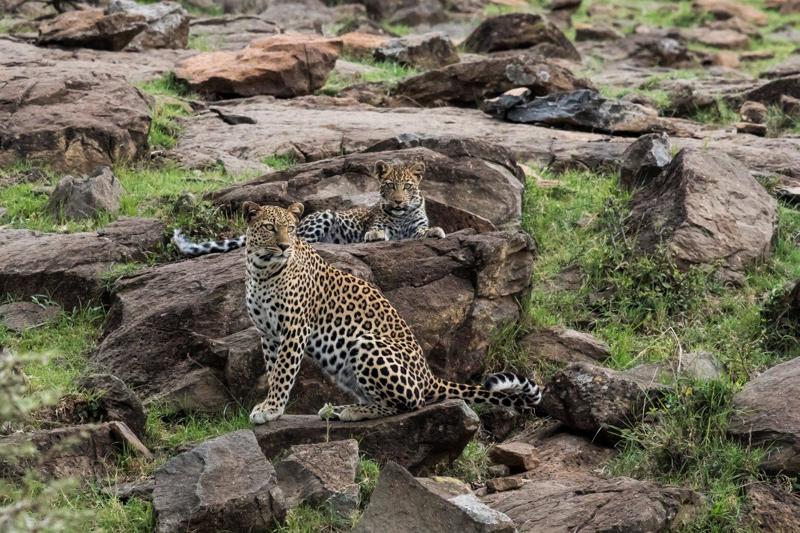 PHOTOGRAPHIC GUIDES
Each land rover is limited to four guests plus your Maasai guide, plenty of room to ensure excellent game viewing and photographic options. All the guides are experienced in photography and assist to ensure you are in the right position to capture the action.Cherie and I enjoyed sharing safari vehicles with our guests to provide wildlife photography hints and tips, camera settings, composition advice and other techniques so that everyone could optimize their hit rate of great images.
Even our Maasai guides have a ton of photographic expertise much to the surprise of some of our guests who occasionally surrendered their cameras to ensure a great picture!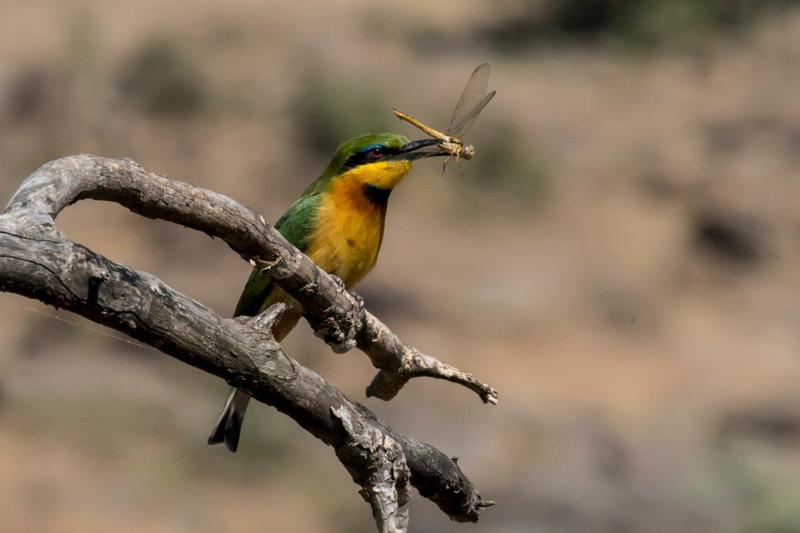 Non photographers love the safari equally as no camera is needed to enjoy the thrill of staring into the depths of a lion's golden eyes, elephants towering over your vehicle, a baby leopard returning your gaze or the thousand yard stare of a cheetah reflected in the sunrise.
And no camera can really capture the African day giving way to night, the brilliant sunset silhouetting the Garden of Eden or the ambiance of luxury camping under canvas.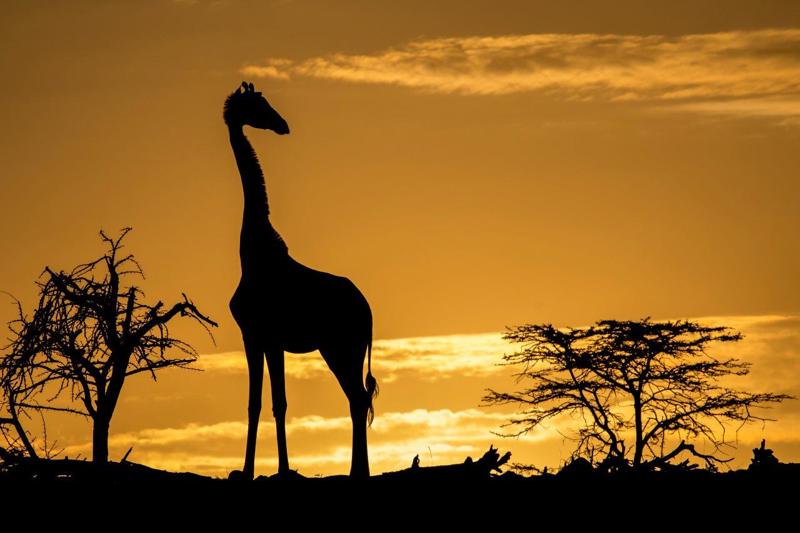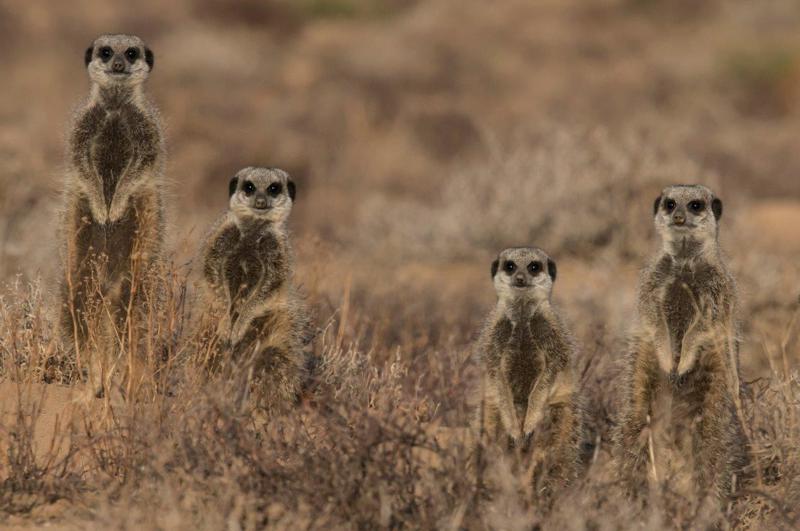 FUTURE DIVE 2000 SAFARIS
Since safari in Africa has been so successful Cherie and I will continue to offer top class safaris for our diving and non diving clients & friends, each safari designed around the best destinations, operators, season timing and photographic or just great wildlife viewing opportunities in the best African countries.
During the August/September season 2019 we will offer safaris to our best destinations in both Kenya & South Africa.
Please write to us to express interest and we shall include you on our invitation list.
Everyone should have an African Safari on their bucket list.
Cheers, Kevin & Cherie Deacon. Dive 2000
Directors.
Dive Safaris & Wildlife Safaris.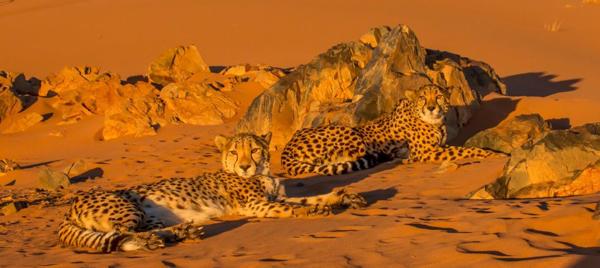 SOME SAFARI TEAM COMMENTS
Fenella Cochrane
What's not to love about Kicheche Mara Camp? Luxury "tents†(and I use the word advisedly) surrounded by zebra, wildebeest, buffalo, monkeys, birdlife and even a lion in camp one night: makes for an interesting walk back to the tent after dark with an Askari armed with just a torch and a stick! Awesome local guides who have an obvious love for their backyard wildlife – you know when your guide gets really excited about something ("f*#@, Sh#& there's a lion hunting a Serval catâ€) that you are experiencing something really special. As to the absolute highlight: tough call. Watching the same 8 week old lion cubs on about half our game drives or a sundowner partaken in the landrover whilst watching a leopard play with her 4 month old cub: magic! I've travelled with Kev and Cherie on many a dive trip over the last 15 or so years and each trip seems like the best but they just keep getting better. My all-time top 3 holidays: August's Maasai Mara, Truk Lagoon on liveaboard Odyssey and swimming with Humpback whales in Tonga. What do they all have in common: Dive 2000 with trip leaders Kevin and Cherie! Saving for the next adventure starting now: Africa 2019 here I come!
Les Schumer & Mandy Varley
Les has a Rescue Certification with around 400 dives since completing his Open Water certification with Dive2000 in 2005. He has travelled with Dive 2000 locally and overseas including trips to the Philippines, Mexico, Cuba and the Bahamas. Mandy is a keen swimmer and both are looking forward to their next D2K adventure with the Humpback Whales in Tonga in 2017.
The D2K African Safari adventure was, in so many ways, the trip of a lifetime.
The staff and amenities at the Kicheche Mara Camp were simply brilliant. We will never forget the early starts to the delicious aroma of steaming hot chocolate nor the stories of the day's myriad wildlife encounters shared over sundowners on the Mara and back at camp around the pre-dinner camp fire. The food at every meal was exceptional. All dietary (Coeliac!), culinary and cocktailian needs were catered for and accompanied, every evening, by the head chef's "though for the day†which always seemed to resonate.
Ever since we've returned, our thoughts are continually returning to the Mara, Kicheche Camp and the wonderful friends we were privileged to share the experiences with.
Our sincere thanks to Kevin, Cherie and the whole Dive 2000 team for making this such a memorable experience.
Carol Rae
OMG! I am still filled with awe and once again inspired with the most amazing trip ever! You both introduced me to the wonders of the `Oceans' and now the beauty of Africa! I am so blessed to have you both in my life-a million thank you's!
RECENT POSTS
No posts to display