03-Feb-2011
Back to Image Gallery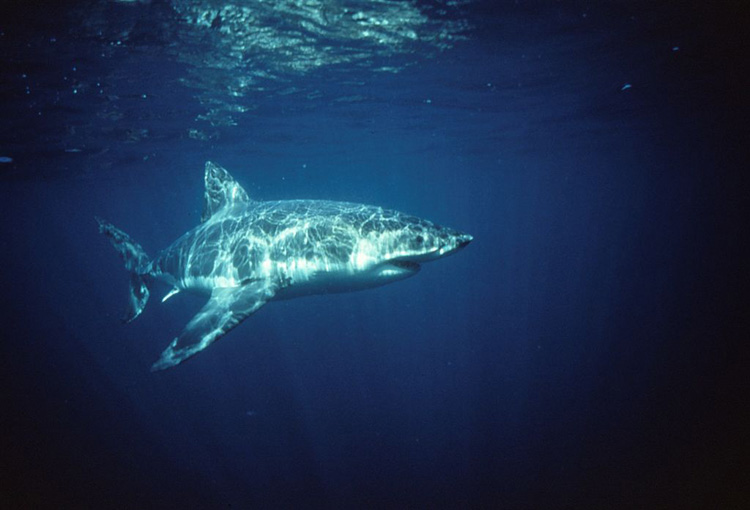 This image of a female Great White shark was captured on my second trip to the Neptune Islands off Port Lincoln, South Australia in the early 1990s. My goal on this trip was to capture this feared creature in an artistic style so I could communicate the majestic aspect of sharks.

To achieve this I knew I needed calm seas, clear water, bright sunlight and one Great White Shark in just the right spot for 1/250 th of a second so I could freeze the light on its body and create art! The sea gods were kind that trip, I got just one perfect opportunity and came away hoping I had the shot. You see in those days, you didn't know until you processed the film back home.
Photo Data: Location: Neptune Islands, South Australia. Genre: Wide Angle Sunlight. Photo Data: Nikonos V Camera with Nikonos 15 MM Lens, Kodachrome Film ISO 64, Aperture Priority Mode. Exposure F5.6 at 1/250 th second. Image by Kevin Deacon.
Photo Hints: These shooting situations are where I learned to use aperture priority mode so the camera can automatically adjust the shutter speed for exposure during fast action. I checked the light meter constantly to ensure the shutter speeds were always 1/250 second or faster to prevent movement blur and to freeze the light beams in the water column and the pattern of light on the shark's body. I had noted other photographers images of big animals were often overexposed as their light meters were fooled by the dark body of these sharks so I anticipated I would need to use some minus EV to prevent over exposure. It worked perfectly!

One final point, it took much discipline to remain on the correct side of the cage where the light was right, regardless of what action was happening at the other sides of the cage! I was determined to produce either art or nothing!