27-Jan-2011
Back to Image Gallery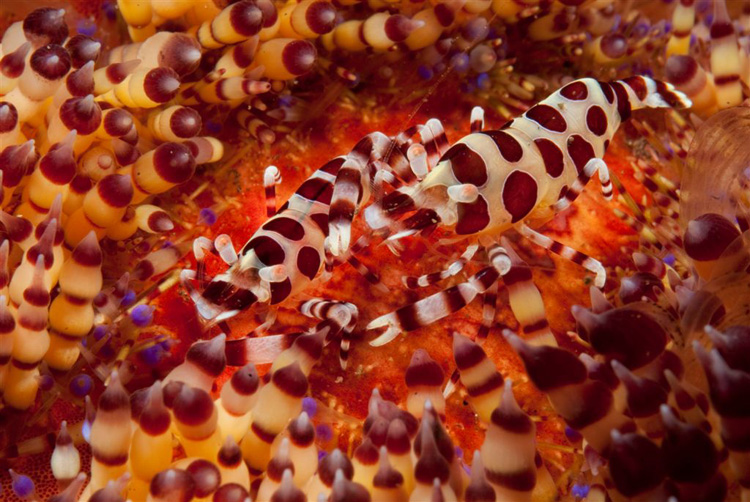 I captured my first images of these shrimp at Dinah's Beach, Milne Bay, Papua New Guinea in 1989 but shot them from slightly above the urchin to reveal the shrimp pair in the area they had cut clear of spines on the urchin's topside.

Now when I come across familiar but exciting subjects I try to improve on my earlier images by shooting from the marine life's perspective and using Strong Diagonal and Rule of Thirds compositions.
Photo Data: Location: Seraya Secrets, Bali. Genre: Macro. Nikon D200, 60mm macro lens, Seacam Housing & Dual Seacam Sea Flash 150 strobes, ISO 100, Manual Exposure Mode. Strobe Exposure f32 @1/125 th second. Image by Kevin Deacon.
Photo Hints: Compose from very low angles and ultra close, rotate the camera left or right to create a diagonal composition of the subjects and do not centre the subjects, rather allow more negative space in front and less behind the subjects (One example of Rule of Thirds).

Do not disturb the Fire Urchin, they can take off across the seafloor at surprising speed making macro photography impossible until they stop again, usually much deeper down the sand slope!